Welcome to this week's edition of International Need to Know–three pieces of information that will help you understand this complicated globe we call home. Even as we mourn the loss of Major Tom to other environs, this week we look at Peak Oil (not what you're thinking), the future of the automobile and what beer sales in China portend.
Of course, if you don't want to know, just hit "unsubscribe" at the bottom or reply to this email and I'll remove you from the list. Alternatively, if you want others to be in the know, hit "tell a friend" which can also be found at the bottom. Without further ado, here's what you need to know.
The Real Peak Oil
Ten years ago or so it became fashionable to worry about peak oil, the idea that we were soon reaching the moment of maximum rate of extraction of black gold. It's a legitimate worry since at some point we'll run out of the stuff, right? But whether we have or will soon reach peak rates of extraction, we have now reached peak consumption of oil in the United States. In fact, as you see in the graph below, U.S. oil consumption was lower in 2014 than it was in 1997. Couple this data with the fact that we are seeing steady improvements in electric car battery technology, exponential increases in the use of solar energy (a subject for a future Need to Know) and it appears oil's expiration date looms. We have not yet reached peak oil consumption worldwide but I wager we will be there soon. No, really, last year I made a bet with Stand Up Economist Yorum Bauman  that we will reach peak oil consumption within 10 years. Any other takers?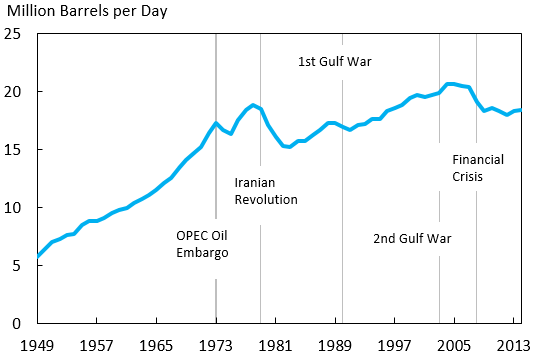 Money Flowing into Self-Driving Cars
Speaking of cars (or at least of the fuel we once put in them), perhaps you are reading this on your smart phone while driving. If so, cut it out. But, in the much sooner future than you think, you can safely read International Need to Know in your self-driving car. It was announced last week that Lyft raised $1 billion, with $500 million coming from General Motors for a partnership on self-driving cars. Uber is in this game as is Google as is Microsoft along with our international friends, BMW, Toyota and others. And two days ago, Tesla announced its new Summons feature  and outlined their road to fully self-driving cars. Last month while visiting Chinese electric automaker BYD in Shenzhen, I saw a demonstration of their self-driving capabilities. All over the world the drive is on for fully autonomous vehicles.  What's that line from Poltergeist? "They're here…"
Beer, Star Wars and China
Figuring out China is tough since the official statistics are like NFL referees, neither overly accurate or helpful. But there is other data that might tell the real story. To paraphrase Deep Throat, follow the beer.  According to U.K. beer-research firm Plato Logic (how do I get a job there?), beer sales in China last year were flat (though the beer itself had a good head). Until last year, beer sales averaged 6% growth for over a decade. If beer is a good barometer than growth is likely much lower than the official GDP growth rate of 6.9%.  On the other hand, the new Star Wars movie had the biggest film opening in China history so folks in China do spend on some luxury items. But still we ask how fast is the Chinese economy growing and more important how fast will it grow this year?  You must use the Force to determine whether the beer glass is half empty or full.
https://gittesglobal.com/wp-content/uploads/2016/06/logo-02-300x54.png
0
0
admin
https://gittesglobal.com/wp-content/uploads/2016/06/logo-02-300x54.png
admin
2016-01-14 11:12:50
2016-06-03 22:17:34
Real Peak Oil, Self Driving Cars and Beer, Star Wars and China