In a week that again saw markets more wobbly than a Peyton Manning pass, caught us picking up stray Mardi Gras beads while dreaming of Kermit Ruffins and surprised us when we ran into both Adam Sandler and Jeff Bezos in a bar in Seattle, we still kept our laser focus on the possible promising market of Iran, the location of the world's largest middle class and the safe harbor of Mexico. It is, of course, this week's International Need to Know, the furthest thing away from a bad Adam Sandler movie that our crazy, complicated world can comprehend.
Without further ado, here's what you need to know.
Iran Open for Business?
The nuclear agreement with Iran is a big deal for all sorts of reasons. Economics is one of them. Because Iran has been so problematical for so long some basic facts about the country are often forgotten. For one thing it's a larger market than most people realize. With a population of 78 million, Iran is the 18th largest-country in the world, bigger than the UK, France, South Korea and Italy. It's also geographically large, the 17th-largest country by area in the world. The stereotype of a Middle East country is one of vast desert expanses, the opening of a David Lean movie. Certainly for Iran the stereotype misses the mark. Iran in many areas is mountainous with the Zagros Mountains dividing the country in half. In fact, there is good skiing in Iran we are told, though the knees here at INTN no longer abide such sports. It is also a highly educated society and like in the United States and most Western countries, more women are attending college than men nowadays. In other words, if Iran ever truly opens up, it is an excellent and intriguing market to do trade and business in. Ah, but always that darn word, "if." Europe and Asia are acting as if the word is "when" with Airbus selling airplanes to Iran and the Iranian Finance Minister welcomed in a recent visit to Japan.  And Iranian business people are beginning to explore possible business opportunities internationally, including here in the United States. We ourselves have been contacted by an entity in Iran about possible collaboration and we hosted someone from Iran last summer in Seattle who was beginning to explore what is and is not possible. It's definitely worth keeping an eye  on "when and if" those two uncertain conjunctions.
When Consumption is Not a Disease
In a Jane Austen novel people were always dying from consumption. Not today. Now companies are dying to find the biggest consumers. That's why China, for all its problems, false data and complicated markets, is as alluring as Fitzwilliam Darcy or Emma Woodhouse. China's middle class is now larger than America's as you see below. It is the lever by which China is hoping to transform its economy from investment to consumption. Let's hope they don't end up like a Jane Austen character taking to their bed faint during the economic transformation.
China Middle Class:
109 million
U.S. Middle Class:
92 million
To be safe, go to Mexico
Perception is more important than reality is one of my least favorite sayings. In our estimation it's an excuse to be lazy. For example, everyone thinks it's dangerous to do business in Mexico. That's the popular perception but what is the reality? Other than a few states—Chihuahua, Guerrero and Sinaloa—Mexico is as safe as that notorious den of violence and crime that is Finland. It's certainly safer than the United States which has higher rates of murder and assaults, not to mention presidential candidates every bit as fanciful as Mexico's. In fact, as the chart below shows, you are far more likely to be kidnapped in Canada then Mexico. Perhaps you should be avoiding Winnipeg rather than Guadelajara. So cut Mexico a break the next time you're thinking of where it is safe and easy to do business. More on Mexico's underrated economy in a future International Need to Know.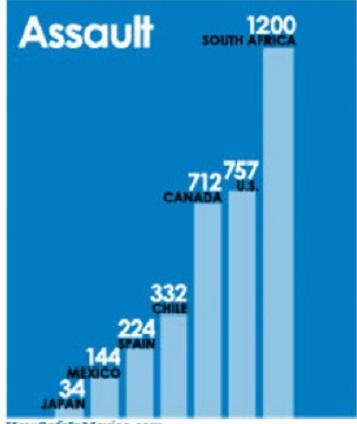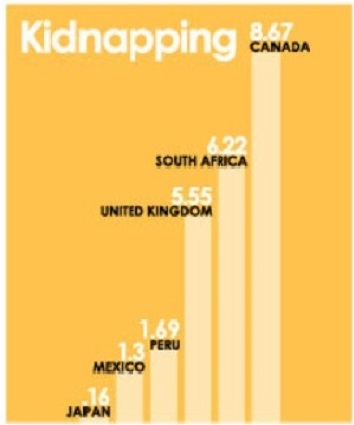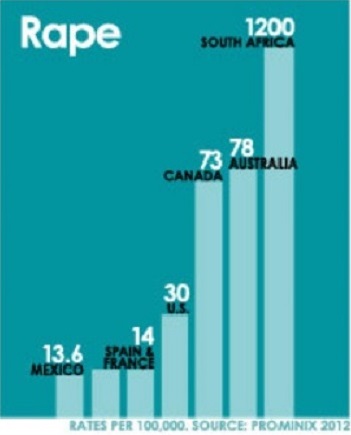 https://gittesglobal.com/wp-content/uploads/2016/06/logo-02-300x54.png
0
0
admin
https://gittesglobal.com/wp-content/uploads/2016/06/logo-02-300x54.png
admin
2016-02-11 11:00:57
2016-06-03 21:28:27
Iran's Opening, China's Consuming and Safe Mexico