Last Friday we saw the great Dr. John perform in Tacoma. Tacoma is not far from Seattle as the seagull flies, but with horrible traffic it was a multi-hour drive and it was also a long ways from Seattle culturally. Seattle, like many cities nowadays, prides itself on its sophistication and worldliness. And yet at Peterson's Brothers in the Hilltop neighborhood where we ate before the concert, we experienced more diversity than in any Seattle joint we've been to. We saw more racial and ethnic diversity, age diversity, socio-economic and many other types of diversity all wrapped around a good meal and a beer. Tacoma felt more worldly and sophisticated than the wonder bars of it's northern uppity cousin. Such a Night. But even as we boogied with the Good Doctor and enjoyed the vibes of Tacoma, we also examined Europeans' views on diversity, robotic farms in Japan and what are the most popular books in the world. It's this week's International Need to Know, providing you what you need to understand around the world sans any locker room talk.
Without further ado, here's what you need to know.
Europeans and Diversity
Immigrants are a hot button issue in many places nowadays, including and especially in Europe, which currently has more than its fair share of overly warm knobs. A new Pew Research Center Survey shows that at least in some European countries, non-coincidentally those much affected by the refugee crisis, diversity is not smiled upon. Greece has the least favorable view of diversity with 61% saying it makes a country "a worse place to live." Italy is not so high on the idea either with 53% unfavorable to diversity. Sweden has the most favorable view of the concept with 36% saying diversity "makes for a better place to live." Interestingly, the U.S. has far more favorable views of diversity than any of these European countries with 56% of the country stating it "makes for a better place to live." With a host of upcoming elections in Europe, rhetoric and campaigns will undoubtedly reflect the moods found in these polls.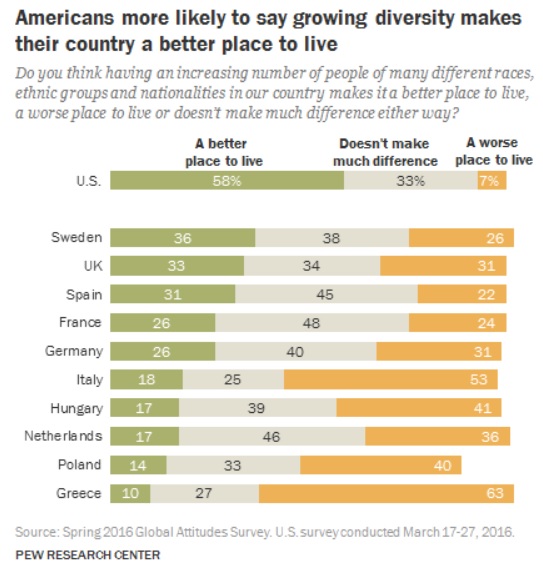 Fewer Japanese, More Robots
As we've noted, there are fewer Japanese today than there were yesterday and there will be fewer yet tomorrow. Japan's aging population and low fertility rate is emptying the country with the population decreasing by one million people since 2015. With fewer workers, Japan is addressing the situation by turning to robots so we read with interest this Guardian article about a Japanese firm opening the first robot run farm. The Japanese agricultural company, Spread, says that in mid-2017 it will open an indoor farm in which industrial robots will carry out all tasks except for the planting of seeds, Galatians might be surprised that robots will reap what we sow. The company says within five years they will boost production to half a million lettuces. That's a lot of salad, both for Japanese consumers and for the company. Currently the company supplies 2,100 supermarkets in Japan. The number of farmers in Japan has declined from 2.2 million a decade ago to 1.7 million today. With a smaller population and more people living in the city, you can bet that number will decrease more over the next ten years and the number of robots in Japan will increase. When keeping an eye out for the rise of robots, look to Japan. Its demographics and culture may make it the first of our Asimovian worlds.
What the World Reads
We here at International Need to Know like to read. At any given time we are usually reading at least one novel and one nonfiction book (currently The Singapore Wink by Ross Thomas and The Future of Violence by Benjamin Wittes, plus the new Bruce Springsteen memoir). The other night with Kindle in hand, we wondered what are the bestselling books in the world and what do those books' popularity say about the world. Wonder no longer, courtesy of the U.K.'s lovereading.com website, here's the list. We were surprised by a number of the books on the list, including Don Quixote. We have some disagreement about a few of the others' popularity but that would be tilting at windmills. Draw your own conclusions on the meaning of these books popularity and what it says about our literate world.

https://gittesglobal.com/wp-content/uploads/2016/06/logo-02-300x54.png
0
0
admin
https://gittesglobal.com/wp-content/uploads/2016/06/logo-02-300x54.png
admin
2016-10-13 11:00:54
2016-10-20 17:10:02
Europeans and Diversity, Fewer Japanese & More Robots, and What the World Reads