There are times when we realize it is important to take a strong and clear stance. We know sometimes expressing an opinion can be controversial, and indeed could cost us readers and even in some cases respect. But in light of the news this week*, we are compelled to tell you that we prefer Rhianna over Beyonce. We enjoy her music more, can hear the melody better and find her economy of lyrics more powerful and clear. This is not to besmirch Beyoncé whom we also enjoy, but if gun to head and told to pick one over the other, the choice is easy for us: Rhianna wins every time. So as we cue up Anti on our streaming service, we bring you information on worldwide ecommerce sales, examine the use of imports in exports and discover the role immigrants play in start ups. It's this week's International Need to Know, serving up international information in three part harmonies.
*Beyoncé's having twins!  Bah, Rhianna, if she was pregnant, would have triplets
Without further ado, here's what you need to know.
Breaking the Mortar Worldwide
Last year we happened to be riding by a Sears store on our bike and decided to stop in to see if they had a certain tool we were looking for and needed that afternoon. The building was as barren as inauguration day. We finally found one lone employee, on the phone, looking like an extra from The Walking Dead. Not only did the store not have the tool, the employee told me most stuff was on their website not in the stores. Indeed the store was nearly completely empty, not just of customers but also of employees and merchandise. When we met with someone from a large department store recently, they told us they weren't worried about Macy's, their concern was Amazon and Jet. This is not just a U.S. phenomenon. It's global. Retail ecommerce sales worldwide increased 22.2% in 2014, 20.9% in 2015 and last year increased 18.6%. China has the largest volume of ecommerce retail sales (see chart below), followed by the U.S., UK and Japan. Ecommerce is still a minority of retail sales (less than 10%) which raises two questions: a) for how long will it be the minority and b) just how large is the opportunity for ecommerce around the world?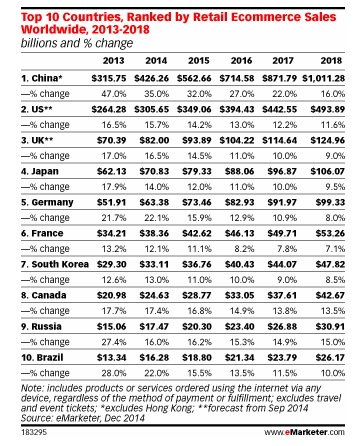 It takes a village…in many countries
Lost too often in the debate on border tariffs, mercantilism, European intra-trade issues, immigrants and more, is that complicated products and services are composed of inputs from many countries. What is an American car or a Japanese car or a German car nowadays? A Toyota assembled in Tennessee* may be made in America but parts are sourced from many different countries. The engine may be manufactured in Japan and the axle somewhere else. This is true for almost every complicated product. In researching counterfeit goods (more perhaps on this in a future issue), we came across this interesting graph below from the OECD. The OECD report noted that "more than half of the world's manufactured imports are intermediate goods." The data is a bit old from 2009 but I doubt things have changed much in the last eight years. Perhaps this will change going forward with 3-D manufacturing and other technological and trade trends but for now the truth of trade is more complicated than our overlords admit or realize.
*A Toyota Assembled in Tennessee is the title of our next country song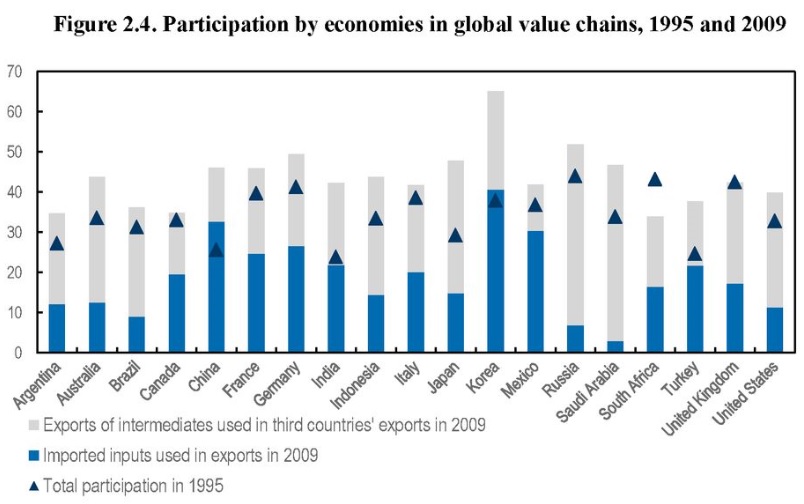 Immigrants and Start Ups
We remember hearing the statistic while visiting Silicon Valley a few years ago that half of the companies there were either founded or headed up by people who were foreign born. As the new administration enacts and proposes new immigration rules, it's worth remembering that nationwide this is true too.  According to the National Foundation for American Policy, "51 percent, or 44 out of 87, of the country's $1 billion startup companies had at least one immigrant founder." Further, the National Venture Capital Association found that "33 percent of U.S. venture-backed companies that became publicly traded between 2006 and 2012" were started by immigrants. The world's people have made America successful.