"As little as possible," Jake Gittes responds when asked what he did as a cop in Chinatown. This quote from our favorite movie came to mind last weekend. We were in our front yard when we heard a cat meowing. We looked down and saw a small, cute, black and brown feline rubbing against our legs. We reached down to pet it and discovered it was skin and bones, which made us think it was either lost or abandoned. The cat followed us onto our porch. It was still on the porch when we returned from a bike ride. The next day while working on a construction project in our backyard, it was a constant companion, less scared of the power tools than we were. So we posted on Nextdoor.com (a website for busybodies, it is the world's fifth worst invention, still a few spots behind Twitter which, as you know, is the world's worst invention) and asked if anyone was missing a cat. A woman named Jan texted us while we were at a baseball game that her cat has been missing since July. She asked if she could go into our front yard to see if this cat was hers. We said sure and half an hour later Jan texted us saying it was not her cat but she had taken it back home with her and was going to take it to the vet to see if it was microchipped. This seemed a bit presumptious to us–others in our household referred to it as kidnapping. We got home from the game and saw a Mom and daughter walking down the street with flashlights, looking under cars. We asked if they were missing a cat. They were. We showed them a photo of the cat we had found and it was indeed their cat. It turns out the cat was skin and bones because she is 18 years old, not because she was lost or abandoned. We then explained a woman on Nextdoor.com (an evil, evil site) had taken, catnapped, their cat. We texted Jan who embarrassedly came right over to return the cat to its rightful owner. The poor, ancient cat had apparently been very distraught at Jan's house–of course, the whole catastrophe could have been avoided. Forget about it Jake, it's Cattown. Even as we miss our feline friend, we meow over Mexico-China relations, scratch and crawl through historic hurricane data and purr over where the best Halal food is. It's this week's International Need to Know, a dog's world of information about our cat-ruled world.
Without further ado, here's what you need to know.
Walls, Bridges, Belts, Roads!
Apparently BRICS aren't being used to build walls anymore. Mexico's President Enrique Pena Nieto was in Xiamen, China (one of the more beautiful cities in China we've traveled to) for the Brazil-Russia-India-China-South Africa (BRICS) summit and also met individually with President Xi. At this bilateral meeting, Xi said, "Both sides should synergize their development strategies, make the most of their respective advantages to build a supply chain that links China and Mexico and radiates to the surrounding regions." Xi also welcomed Mexico's involvement in the Belt and Road Initiative, an initiative to build trade routes along the old silk road. That road is now stretching across the Pacific apparently. We've noted China's increasing engagement around the world, now they are talking intimately with the United States' southern neighbor, talking about belts and roads instead of walls. For Mexico's part, China is its third-largest export market and second-largest importer though Mexico's trade with China is many magnitudes smaller than its trade with the U.S. Nonetheless, there are many reasons for Mexico to pay closer attention to China, even as its northern neighbor distances itself.

Strong Winds of Change
We have maintained in this space that the world is far better than it used to be and we stand by our stance despite worrying trends (which we have also covered). We recently watched with worry when during Hurricane Harvey a friend posted on Facebook a photo of the water lapping up towards his front door. He thankfully evacuated safely and his house was far less damaged than others. We watch with worry as Hurricane Irma* devastates countries to the south of us and bears down on Florida. But, we also remember that hurricanes are not as deadly as they once were despite the fact that climate change may be making them stronger. Below you see a list of the world's deadliest hurricanes, almost all taking place more than 50 years ago. Economic and social growth have given societies better tools to deal with natural disasters. We hope, even in the midst of worrying trends, even as some retrench efforts to confront climate change, that the world will continue to grow economically and socially in the future so that tomorrows will continue to be less deadly than todays.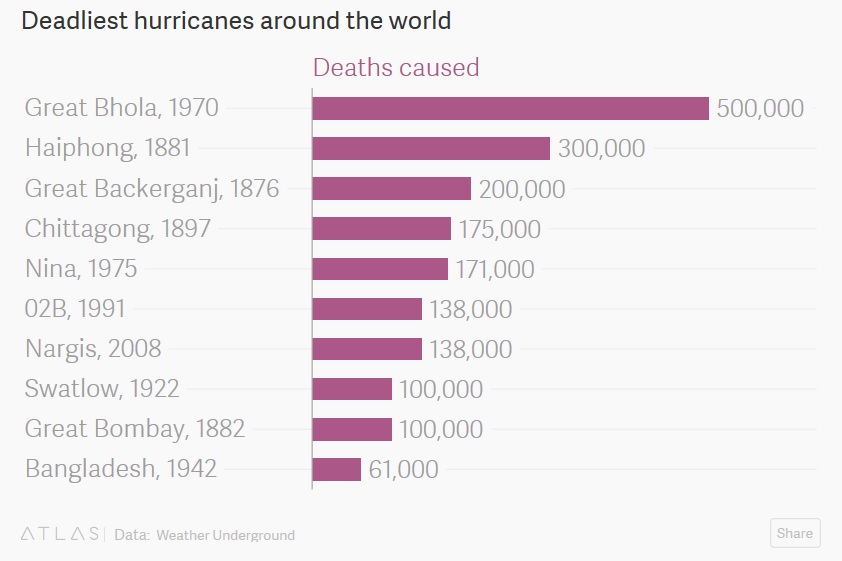 *A hurricane named Irma immediately conjures up memories of the soul queen of New Orleans, Irma Thomas, singing It's Raining live at French Quarter Festival in 2013. We were soaked, we were happy. Our best wishes to all affected by Hurricane Irma. 
Where to Travel for Halal Food?
Years ago we were working with a business group from Abu Dhabi. We took them out to dinner to a restaurant that served halal (permissible food and drinks in Islam). However, they had arrived much earlier in the day and the hotel they were staying at was located nowhere near halal friendly restaurants. Needless to say they were quite hungry at dinner. So if you're Muslim, where are the most Halal/Muslim friendly places to visit? As it turns out, Mastercard and CrescentRating collaborated to create an index of such places. Not surprisingly, the top ten is chock full of Muslim countries or those bordering such countries (we're looking at you, Singapore). Interestingly, the U.S. ranks above India, and both are well above China and Russia. Below you'll find the top 20 and at the link the full list for your hungry perusal.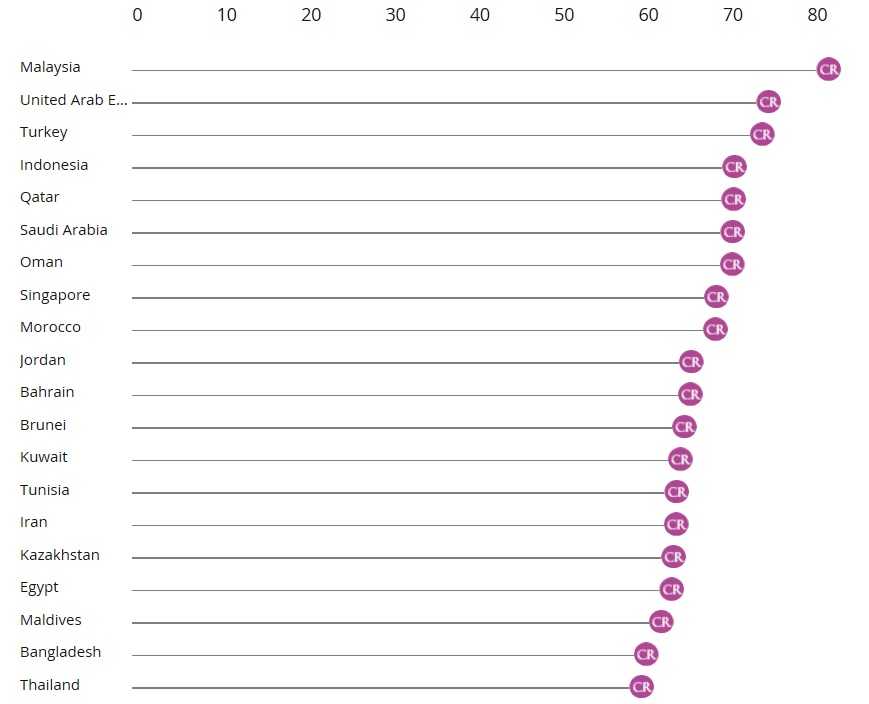 https://gittesglobal.com/wp-content/uploads/2016/06/logo-02-300x54.png
0
0
admin
https://gittesglobal.com/wp-content/uploads/2016/06/logo-02-300x54.png
admin
2017-09-07 18:44:17
2017-10-06 18:45:30
Mexico-China, Hurricanes Less Deadly, Best Halal Food