We are a big NBA fan despite losing our Seattle Sonics basketball team to Oklahoma City. So before headed to dinner with friends we were happily watching the opening game of the season between the Cleveland Cavaliers and the Boston Celtics and unfortunately saw live the gruesome injury suffered by Celtic forward Gordon Hayward. Having dislocated our kneecap while playing basketball in college, perhaps our capacity for watching such injuries is less than others–we literally fled the room after the injury. The next morning while scanning the news we came across the photo below. Don't worry, it does not show the injury but it does show the horrified reaction of fans sitting behind the basket, one holding his hands up to his mouth, another grimacing, another covering her eyes. And then there's one guy holding up his smartphone smiling somewhat evilly and either taking a photo or video of Hayward. Who is this man? Why is he so happy about this horrible injury? Why does he feel the need to record the moment? At the same time he smiles and records, a man, presumably from the team's medical staff, is running up to help Hayward. This photo seems to sum up humanity in all its glory, flaws and depravity. Meanwhile we record more edifying happenings, including the state of the digital world, China's 19th Party Congress and flying bikes (!) in Dubai. It's this week's International Need to Know where not even driving rain and power outages  in Seattle prevent us from delivering international news and data to illuminate our world. (But not next week when we'll be on the road at a conference–we'll be back on November 1)
Without further ado, here's what you need to know.
Who is Exporting Connections?
Approximately 50 percent of you are reading this on your mobile devices according to our data analytics (apologies to you for the difficult formatting on mobile–we hope to improve that soon). We have a number of readers in Japan and it's no wonder since according to the Organization for Economic Cooperation and Development's (OECD) recently released Digital Economic Outlook 2017 report, Japan is number one in mobile broadband digital subscriptions (see table below). Finland, Australia, the U.S. and Estonia are among a number of countries well above the OECD average with Greece, Hungary and Colombia bringing up the rear. Surprisingly, high tech start-up nation Israel is below the OECD average. Pivoting from users to producers, Korea is tops for highest share of employment devoted to IT, followed by Estonia, Luxembourg and Finland. Estonia is famous for its digital prowess even as its Baltic neighbors lag far behind–policy matters more than geography. The report also examines the largest exporters of ICT services. Ireland is tops, followed by India, the Netherlands and the U.S. Interestingly your broadband speeds, subscriptions and penetrations are not always correlated with the size of your industry and exports.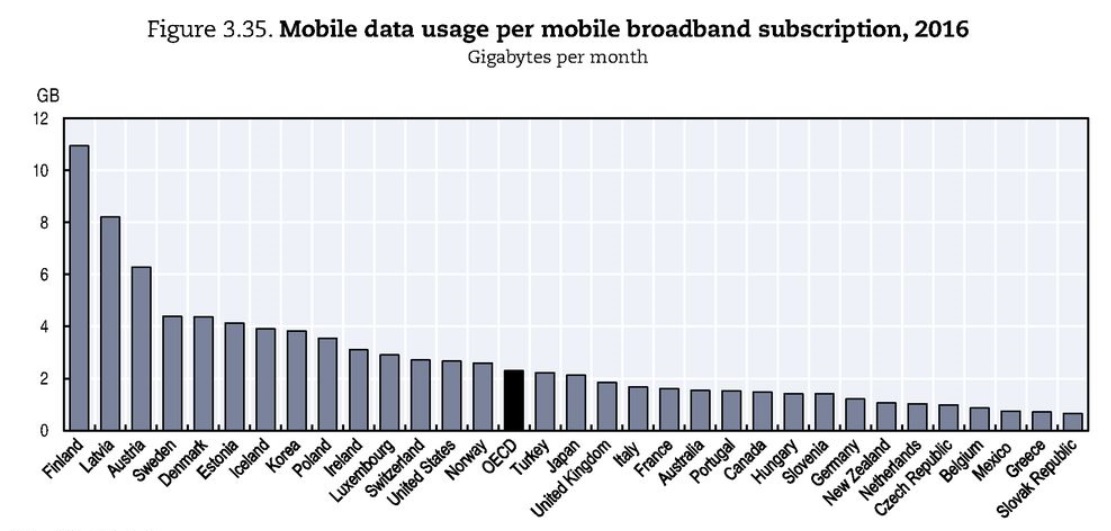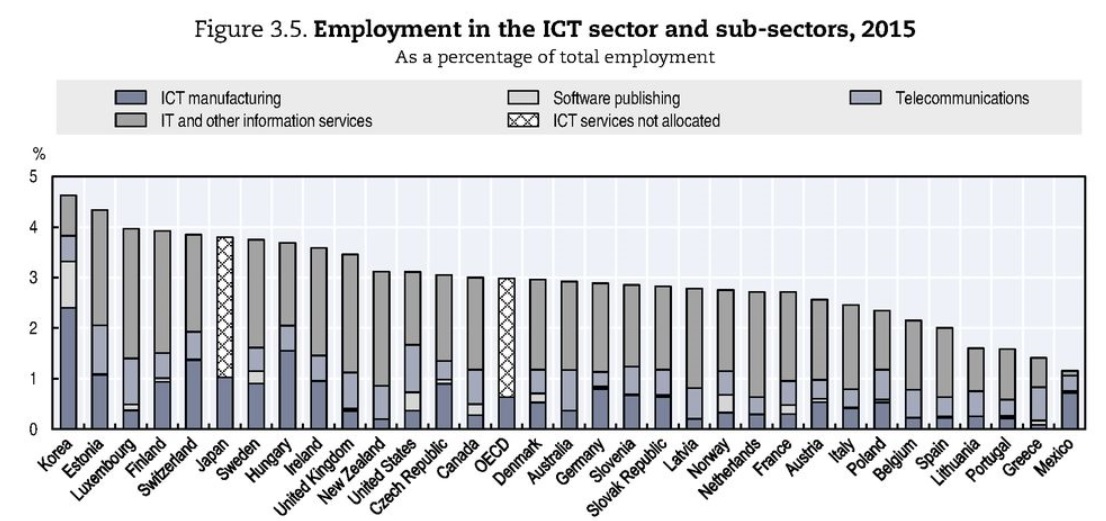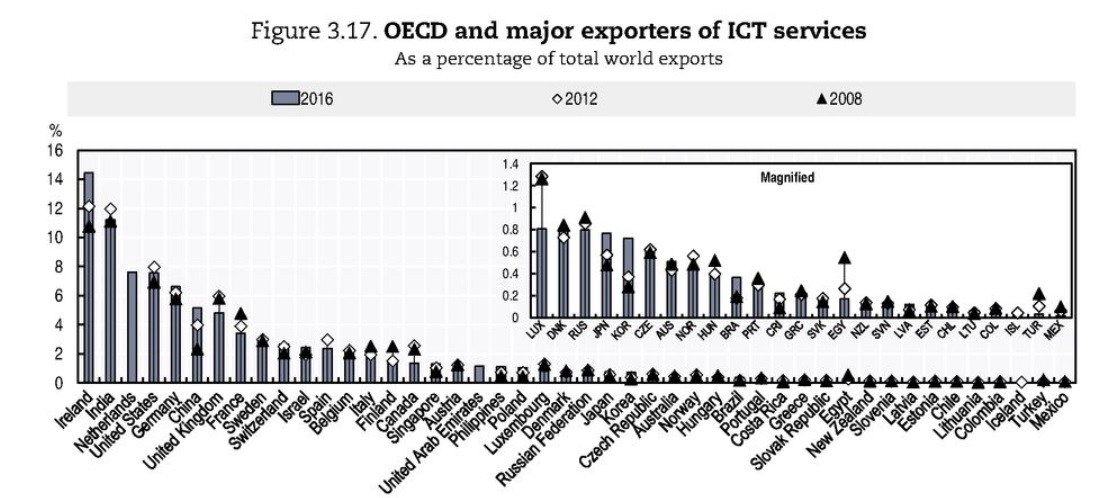 China at the 19th Party Congress
Earlier this week, at the opening of China's 19th Party Congress, President Xi Jinping gave a three and a half hour speech promising "a new era," one in which we hope speeches will be shorter. For those trying to understand China's political structure in the wake of the Party Congress, below you will find a handy infographic (click on it to make it larger and readable) produced by M.Taylor Fravel of MIT. China's economy has been relatively robust leading up to the Congress. It appears that some of the growth was bolstered by large deficit spending as can be seen in the second chart below. Current government stimulus is higher than even during the height of the financial crisis in 2009 as Kyle Bass of Hayman Capital Management reports. Not coincidentally, Natixis reports on the required money that will need to be spent to support China's "zombie state owned enterprises" (those unable to pay their interest expense with their revenues). China has been deferring dealing with some of their economic challenges in the interest of having a strong economy leading into the Congress. As this week's meetings end, what will China's approach now be? Perhaps their AI's will assist them in determining how best to allocate resources.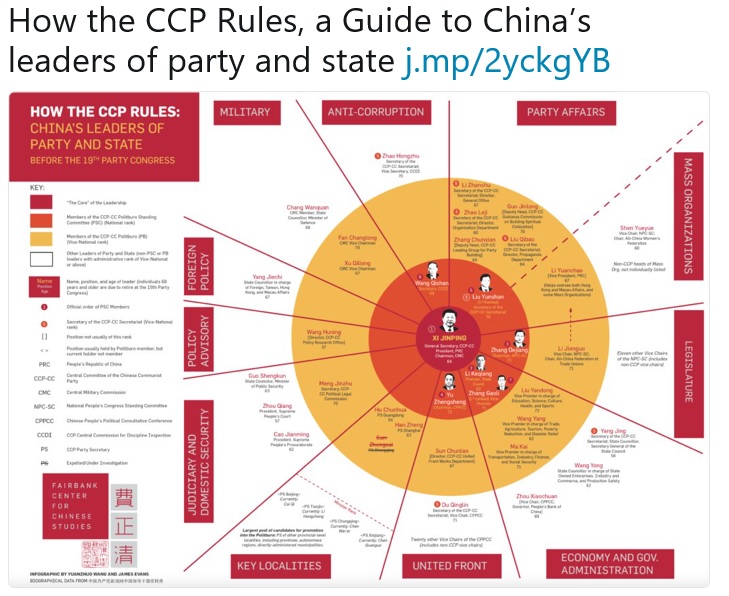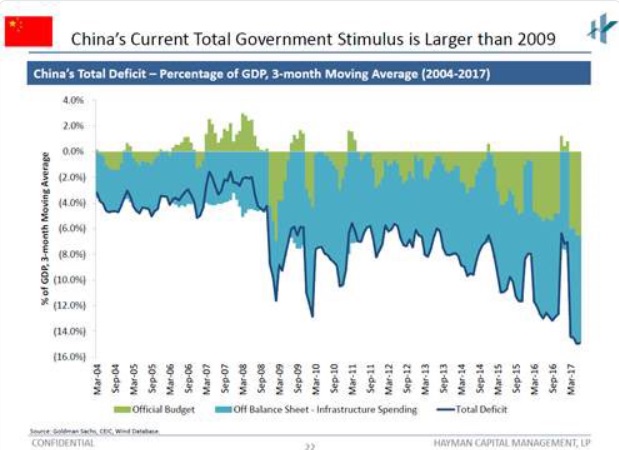 Flying Police
The new Star Wars trailer came out last week. Star Wars appears to have taken on the traits of a religion for many. And while if a new religion is to emerge we prefer it to be based on Bill Murray, even we were captivated by news this week that Dubai is testing "Star Wars-style hover bikes that would be used by their police force. The Russian-made bikes were unveiled at a tech show last week and "Hoversurf CEO Alexander Atamanov posted on Facebook to say the company and Dubai police had signed a memorandum of understanding to mass produce the craft in the Dubai area." The bikes are reported to fly up to 70 km/hour, fly at a height of 5 meters and have a range of six kilometers. Interestingly they are designed to fly "with or without a passenger." The Dubai police wish to be able to zip over traffic in emergencies and perhaps more worrisomely, "It can recognize people in any area and identify suspicious objects and can track suspects," Brigadier Khalid Nasser Al Razooqi, director of the Smart Services Department at Dubai Police, told Gulf News. Al Razooqi also told Gulf News that the hover bikes will be fitted with cameras connected to a command center and be used at tourist attractions in Dubai. We would have completely failed you if we did not provide video of the hover bikes complete with dramatic music, which you find below.

DUBAI POLICE HOVERBIKE!!!
704 likes
1230243 views
https://gittesglobal.com/wp-content/uploads/2016/06/logo-02-300x54.png
0
0
admin
https://gittesglobal.com/wp-content/uploads/2016/06/logo-02-300x54.png
admin
2017-10-19 11:00:42
2017-10-21 03:03:16
State of Digital World, China's 19th Party Congress & Dubai Flying Bikes