Merrick Garland is in the new Indiana Jones movie and Harrison Ford has been nominated to the Supreme Court. Or have I gotten my old men mixed up? Apparently March Madness reigns supreme on the court and at the court. But even as International Need to Know escapes the madness for New Orleans–the only city in the United States where you feel like you are not in the United States–for intensive cocktail, music and cultural research, we gaze steely eyed at the question of whether Brazil is in another one of their lengthy bust cycles, we consider an international gender gap and we worry about whether to expect a Donald Trump of China.  It is, of course, this week's International Need to Know, a tour of the world's important issues minus baggage fees and jet lag.
Without further ado, here's what you need to know.
The Tanking of Brazil
This week I met with a small company whose biggest export market was until recently Brazil. The president of the company told me their sales are way down because of Brazil's tanking economy. Yes, Brazil is struggling like a salesperson selling faulty mosquito nets at this summer's Rio Olympics. As I type, tens of thousands of Brazilians are rioting in the streets (U.S. political protesters are slackers by comparison). There's a reason for a disgruntled nation: the economy is contracting, last year by 3.8% and this year the shrinkage continues.  In fact, some analysts believe it will contract by 4.6% in 2016. If so, that will be the deepest, most sustained contraction since the country began keeping records in 1901. To add misery to insult, the country's inflation rate is the highest it's been since 2003. China's slowing economy has played a part in Brazil's troubles. Brazil rode the commodity gravy train right off the dining room table. In 2000, Brazil's annual trade with China was $2 billion. By 2013 it grew to $83 billion with more than $40 billion in exports to China. But China's slowdown has caused Brazilian exports to China to tumble by 20%. Of course, Brazil has plenty of internal challenges as well, including corruption and mismanagement. In fact, Brazil has trod this muddy economic path before. The now busted Brazilian miracle of the mid-2000s was proceeded by one in the late 1960s and early 1970s. That "miracle" was followed by a lost 1980s decade. Let's hope Brazil finds its way to the path of economic prosperity sooner this time.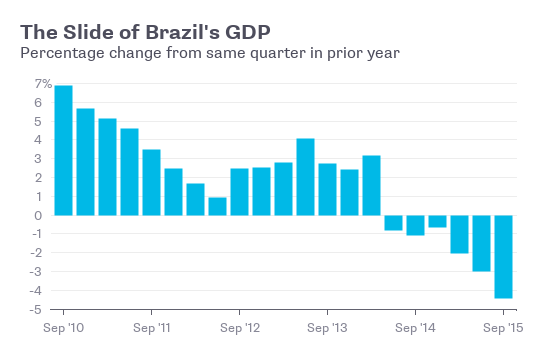 Women are Better Educated than Men
If you're a male reader you may have difficulty reading this since you are increasingly an uneducated slob. This is true not just in the United States but around the world. In OECD countries, we see that the gap between women and men obtaining a higher education is widening. Today 58% of people in the OECD graduating from an institution of higher learning are women.  In only four OECD countries are more men than women graduating–Japan, Germany, Korea, Switzerland and Turkey.  The closing of the gender gap is not contained to just OECD countries. In fact, more women than men are graduating from universities in the Middle East, including in Saudi Arabia, Iran and Kuwait.  It is good that finally women are getting opportunities, and taking them. It is disconcerting that men are doing so badly worldwide. Of course, there are educational pockets where men still dominate and women unfortunately lag. In STEM fields, at least in the OECD, there are still far more men graduating: "only 31% of the bachelor's degrees awarded in science and engineering went to women."  There are different types of gender gaps for men and women these days in higher education; it would be good to fix them both.
Where's the Donald Trump of China?
U.S. Net manufacturing jobs loss/gain since 2010:

  +861,000

Decrease in open manufacturing positions in China since 2012:  -6%
Okay, it's not exactly apples to apples due to the vagaries of Chinese data, but it squares with previous data that manufacturing jobs are decreasing in China and such jobs are increasing in America. From current political discourse you would think the opposite is true. Of course, up is down and down is up in so many ways in that bloody arena. While in recent years we have seen manufacturing gains in the United States and decreases in China, economic studies have shown that before this decade, the U.S. lost between 1 and 3 million manufacturing jobs to China.  But those days are over. In the future both China and the U.S. are likely to lose jobs to machines rather than to each other.
https://gittesglobal.com/wp-content/uploads/2016/06/logo-02-300x54.png
0
0
admin
https://gittesglobal.com/wp-content/uploads/2016/06/logo-02-300x54.png
admin
2016-03-17 11:00:31
2016-06-02 16:00:22
Tanking Brazil, Better Educated Women and the Donald Trump of China