Many years ago I was traveling to Melbourne, Australia for work and brought gifts for some of the people we would be meeting with. Unbeknownst to me, the gifts–glass art work made by local artists–contained plants pressed between the glass. Australia is very rigid about plants and animals coming into their isolated continent and my gifts were confiscated at the airport. I was a very unwise man bringing neither frankincense nor myrrh. So I had some sympathy and certainly nostalgia when viewing Johnny Depp and Amber Heard's dog video released this week. But even tough-minded customs officials can't stop us from discussing the always confusing China, presenting more evidence of peak oil usage and showing where in this great big world of ours the optimists can be found. It's this week's International Need to Know, your neither optimistic nor pessimistic but merely clear eyed if somewhat amused look at what's important in the world.
Without further ado, here's what you need to know.
The Ever Confusing China
Surprisingly*, last week China announced that GDP growth rates for the first quarter were right in line with expectations–an annualized 6.7% growth rate. Others pointed out this growth was built on a shiny new skyscraper of credit. In fact, as you see in the chart below, China's first quarter financing was as large as entire countries economies such as Indonesia and the Netherlands. That's misleading a bit, of course, since China's scale makes most things seem small in comparison (though Indonesia is the world's 4th largest by population). Nonetheless, total credit in China in the first quarter was CNY7.5 trillion, up 58% year over year. That's about 46% of nominal GDP, a record level for China. Maybe GDP growth really is at 6.7% (some independent experts estimated 4%) but if so more and more credit is needed to achieve that growth rate. GDP growth appears to be driven by government spending and bank loans (ahh, the dark deep waters of China's banks that we will continue to explore) with government spending rising 16.9% in the first quarter. Of course, this may be smart Keynesian policy in an economic downturn. But for how long can GDP growth be propped up with credit?  Time, that rascally ever marching dimension, as always, will tell.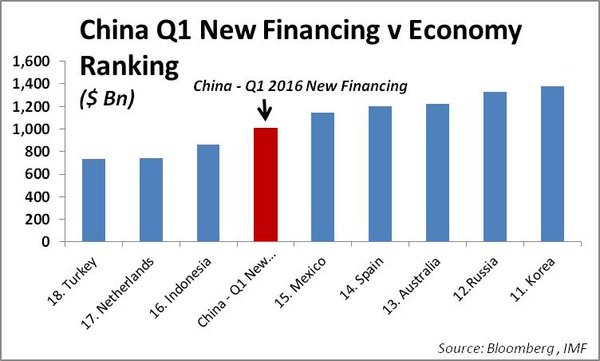 More Signs Peak Oil Usage is Coming
We noted in this sacred space a few months ago that we are nearing peak oil consumption (not production). Today comes more evidence for this with the news that, "Saudi Arabia is raising $10B from a consortium of international banks as it embarks on its first global debt issuance in 25 years." For the first time, Saudi Arabia is becoming dependent on foreign capital. At the same time, the country is building a sovereign wealth fund using $108 billion from its investments in local companies. The idea apparently is to start investing around the world through the sovereign wealth fund and use the returns as revenue for the state budget, a budget that increasingly has less oil money to spend. Saudi Arabia is becoming like a public pension fund. Other oil countries are also now borrowing on the world market, including Oman and Qatar. The changing nature of the oil markets (there may be short and even mid-term price spikes but as we noted last month, oil prices in the long term will stay low), is forcing changed interactions between oil producing states and the rest of the world.
Where the Cynics Aren't
In the throes of a political campaign and on the washed up shores of cynicism, we hear lots of pessimism out there nowadays. In the midst of rapid technological change, environmental concerns and terrorism threats, lots of people think the world is getting worse, not better. But someone out there must be optimistic, right?  Below is a poll showing the share of the population who think the world is getting better. China tops the list. For hundreds of millions of Chinese, the world is indeed better than it was thirty years ago. Whatever the trade-offs that came with that, it is a good thing these hundreds of millions are doing better and rose out of poverty.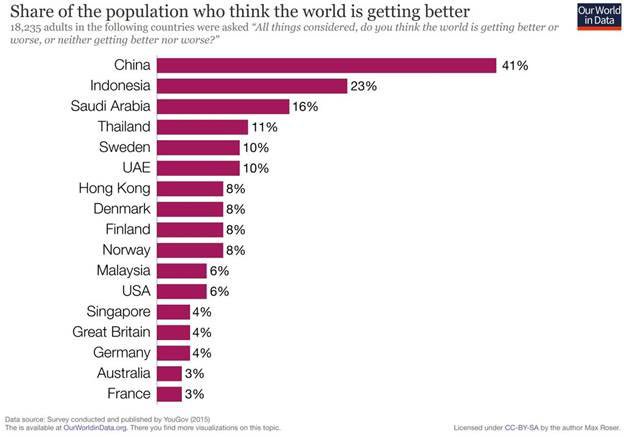 *Someone needs to create a sarcasm emoji**
**  

RIP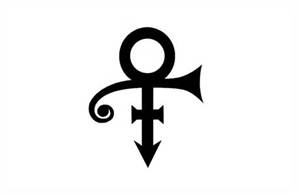 ---
–Note some design changes to INTN.  More to come soon, including a website where you can find INTN archives–
https://gittesglobal.com/wp-content/uploads/2016/06/logo-02-300x54.png
0
0
admin
https://gittesglobal.com/wp-content/uploads/2016/06/logo-02-300x54.png
admin
2016-04-21 11:11:31
2016-06-01 03:26:04
Confusing China, Peak Oil (Usage), Where are the Cynics