Perhaps it's no coincidence that in the same week UFO aficionados came out for Hillary Clinton, and in the same year that Mulder and Scully made a triumphant return, NASA announced this week that they have discovered another 1284 planets using the Kepler telescope, more than doubling the number of known planets. Apparently nine of these newly found planets may have the characteristics needed to sustain life, bringing the known total of so-called "Goldilocks" planets to 21. But even as we wondered which presidential candidates we would like to send to one of these 21, it did not distract us from ferreting out corruption around the world, inquiring into who is spending money on renewables and discovering where all the tourists are coming from. It's this week's International Need to Know, your Area 51 of unseen information about our own so far habitable planet.
Without further ado, here's what you need to know.
The Gift of Trade
We've had the occasion to talk with lots of exporters in recent months about their challenges and opportunities in exporting. Many of these companies noted the challenge of Byzantine rules in overseas markets. Regulations in these countries seem to change haphazardly in ways that adversely affect the companies' ability to do business and often in ways that are beneficial to their domestic competitors. A few companies even touched on the corruption in the markets they sell to, not calling them fantastically corrupt as David Cameron put it to the Queen this week, but just your everyday type of corruption, which is more than enough distortion for your average business to deal with. How pervasive is corruption? The World Bank quantifies the corruption problem in the chart below. In interviews of more than 130,000 firms across 135 economies, the World Bank found that "1 in 3 companies identify corruption as a major constraint to operating their establishments." Nearly 20 percent of these businesses said they are expected to give gifts to public officials in order to "get things done." None of this is new, of course. But it is occurring in a world in which trade rules are under attack, especially in the United States. Ironically, we probably need more trade agreements (with real teeth), not less.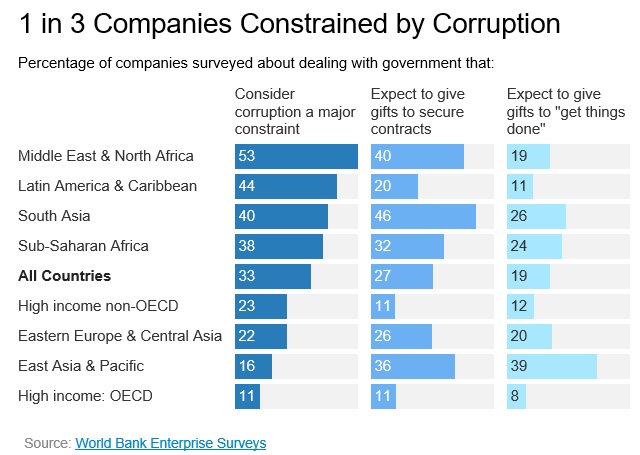 Renewing Investments
Show me the money. This week we do so in clean energy. Investments in renewable energy continue to be robust totaling $206 billion in 2015 and for the first time more than half of all new generation capacity came from renewals. Regular readers of INTN will not be surprised given our predictions in this space that solar will dominate energy generation within 20 years. China, the world's biggest polluter was also the biggest investor in renewables at $103 billion. The U.S., the second-largest polluter, was also the second-largest investor in renewables at $44.1 billion. Ahh, sweet symmetry. The rest of the top investors are displayed below in all their technicolor glory courtesy of the Frankfurt School UNEP Center. But it's not all rosy for the renewable energy market. The report by the Frankfurt School notes that more than half of the world's coal-fired power station capacity is less than 23 years old. Since coal plants usually have 40-year lifetimes, and, as Frankfurt notes, "the costs of running them once built is much less than the cost of constructing new fossil fuel or renewable capacity," we, like bad kids on Christmas, probably have lots of coal burning in our future with all the consequences associated with it.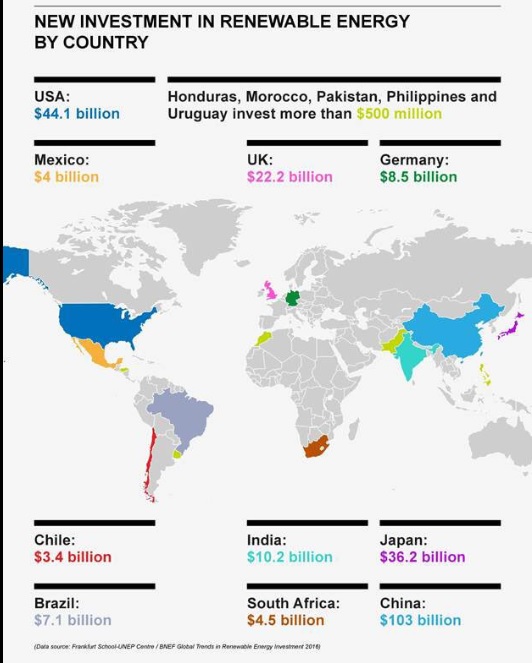 Vacation
As Memorial Day looms here in the United States, we're headed into prime tourism season. Soon swarms of rabid tourists will descend on museums and heritage sites with selfie sticks and phone cameras eagerly at their grasp. A year or so ago, International Need to Know found a ticket booth with no line at the Eifel Tower. When a large group of Chinese tourists saw our discovery, we were nearly stampeded to death. So we are not surprised by the answer to the question of who are the world's top tourism spenders. It's not even close. Last year Chinese tourists spent $292 billion, more than twice what American tourists spent and triple the expenditures of German tourists. This large sum is partly because of the number of Chinese tourists and partly because Chinese tourists spend more per trip than other vacationers. The U.S., however, continues to be the largest destination for international tourists. Tourism, by the way, is an export, and an increasingly important one. International tourism now accounts for 7% of total world exports and 30% of service exports. In the future, when robots rule the world, will we all be tourists or will we beWALL-E-style inhabitants of this planet?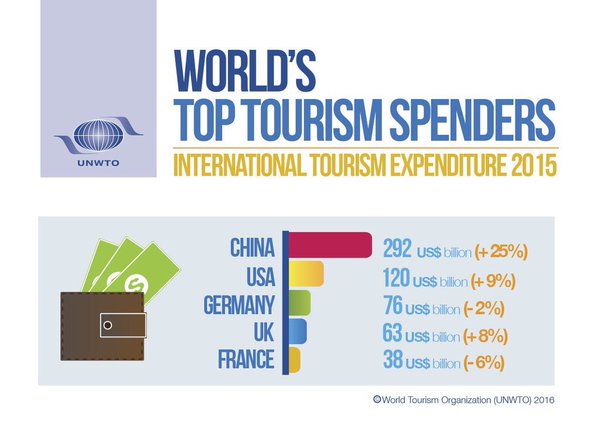 https://gittesglobal.com/wp-content/uploads/2016/06/logo-02-300x54.png
0
0
admin
https://gittesglobal.com/wp-content/uploads/2016/06/logo-02-300x54.png
admin
2016-05-12 11:00:13
2016-05-31 23:11:11
Corruption, Renewable Energy Investments & Where People Vacation