This week we head to Canada. In fact, we leave for the border shortly and plan on remembering our passport unlike a trip we took to Vancouver BC a few years ago for our wedding anniversary. On that trip, we remembered five minutes from the border that we had left our passport at home. We explained to the Canadian border guard that we were coming to celebrate our wedding anniversary and asked if was there any chance he would let us in without my passport. The guard good naturedly quizzed me on what year we were married . When I hesitated trying to remember when we were wed and our wife made a face at our hesitation the guard laughed and said it was obvious we were married and he would let us into Canada but he couldn't guarantee what our country would do when we tried to return. Sure enough when re-entering America we were lectured sternly by the American border guard and told we were being put on a list; there was none of the joviality and accommodation of the Canadian guard. But for good or bad for America and for us, after a long lecture, we were permitted to reenter the country. So as we double check our passport is in hand, we examine the Fast and the Furious, catch up on China's One Belt Initiative and ponder whether countries have made any progress on greenhouse gas emissions. It's this week's International Need to Know, providing comity, not Comey, on international affairs.
Without further ado, here's what you need to know.
Movies Moving Fast & Furiously Overseas<
The closest we have come to seeing a Fast and Furious movie is when someone ran a red light and totaled our car last summer. But we could not resist the chart below showing the overseas revenue for each of the Fast and Furious movies since 2001. The chart is essentially shorthand for globalism. In 2001, overseas revenue accounted for 30 percent of the first movie's overall take but for this year's eighth(?!!) installment in the series, overseas revenue is so far accounting for 81.8 percent. The importance of international revenue has been cited for the dumbing down of Hollywood movies (Hollywood believes you can't have complicated dialogue, plots or character development when it is being translated into many languages and cultures). Fortunately, Amazon, Netflix and other streaming services are catering to more niche markets allowing for films of a different bent than F&F and at budgets more manageable. But for big tent pole pictures–the superhero movies, the F&F franchises–the kind of big budget spectacle Hollywood specializes in, movie goers overseas are more important than American movie lovers. This will be increasingly the case in other areas of commerce and culture going forward.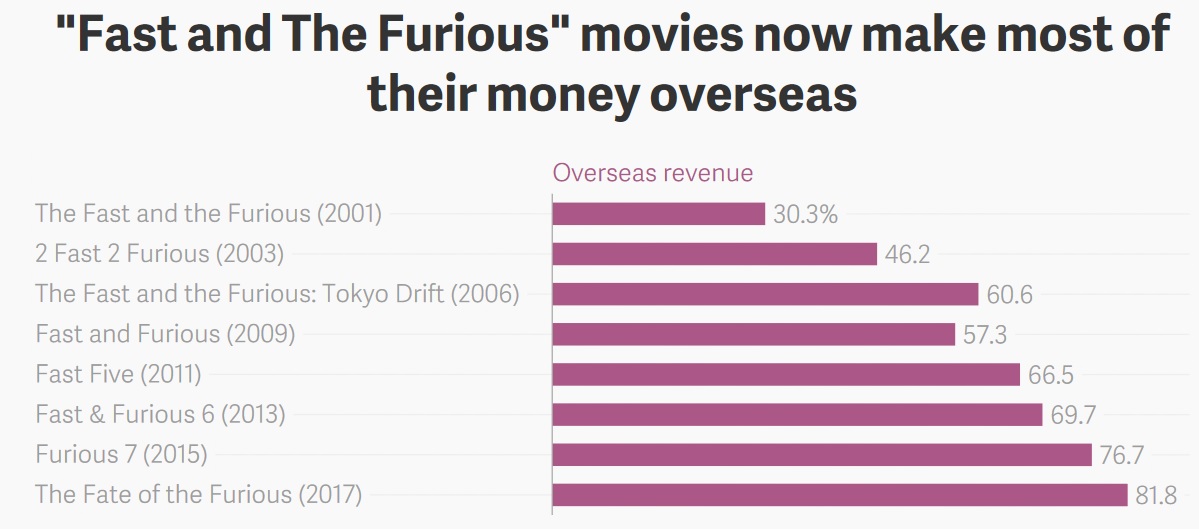 One Belt, But Indian Suspenders
Last year we brought you news of China's One Belt Initiative, an ambitious project of the Chinese government to further trade and economic integration across Asia, Europe, and Africa. As Sarah Zheng writes in the South China Morning Post, "The strategy uses free-trade agreements and infrastructure projects – including roads, ports and railways – to create a modern Silk Road spanning some 65 countries, which have a combined gross domestic product of US$21 trillion." The One Belt initiative really consists of two belts–an economic "land belt through Eurasia, and a maritime belt that connects coastal Chinese cities to Africa and the Mediterranean." A major summit takes place next week in Beijing at which 28 heads of state of the countries making up the notches of the belt will attend. But, one prominent notch, India, refuses to attend. Among the reasons for India's absence is the One Belt Initiative includes a China-Pakistan Economic Corridor which India is not keen on. India is also concerned about the security implications of the One Belt initiative and its potential to align economic standards around a Chinese model. The battle to fill the vacuum we referred to last week Hoovers on.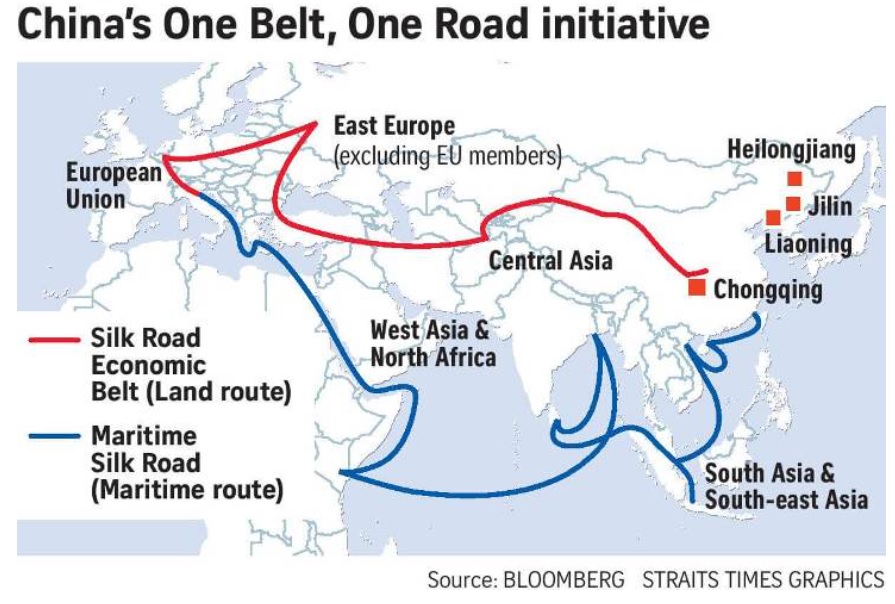 Update!!!: Just as we were about to hit "send" on this week's missive, we came across the video below produced by China promoting the One Belt One Road Initiative. It's our favorite video of 2017 so far! And, the rap towards the end of the video proves utterly and convincingly that rap, like rock before it, is dead. Enjoy!
Lies, Damned Lies and Charts
A new New York Times columnist who has caused much consternation for his dismissiveness of climate change in his debut columns posted this chart of Germany's greenhouse gas emissions since 2009 in his most recent column. His point is that Germany has made no progress on lowering emissions since the 2016 level is essentially the same as the 2009 level.
Music Video: The Belt and Road is How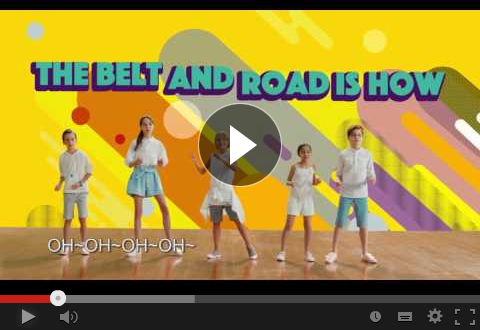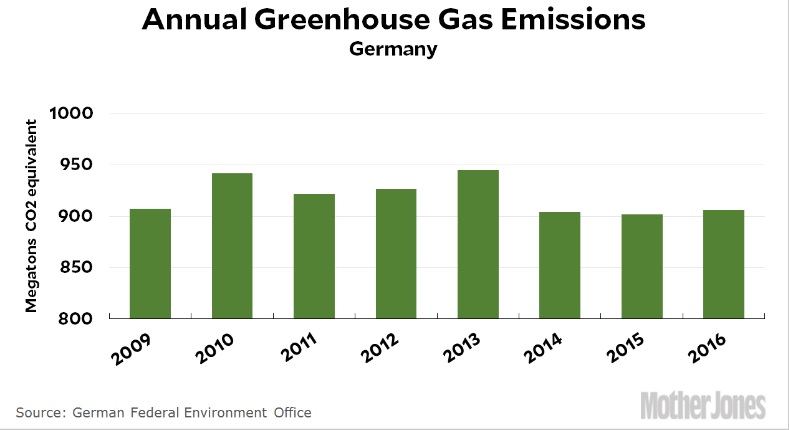 Kevin Drum and others point out that the columnist was able to make Germany look like it has accomplished little in lowering greenhouse gas emissions by cherry picking the starting date of his chart. Here's a chart Drum drums up for emissions going back to 1990 which shows Germany having pretty good success in lowing greenhouse gas emissions.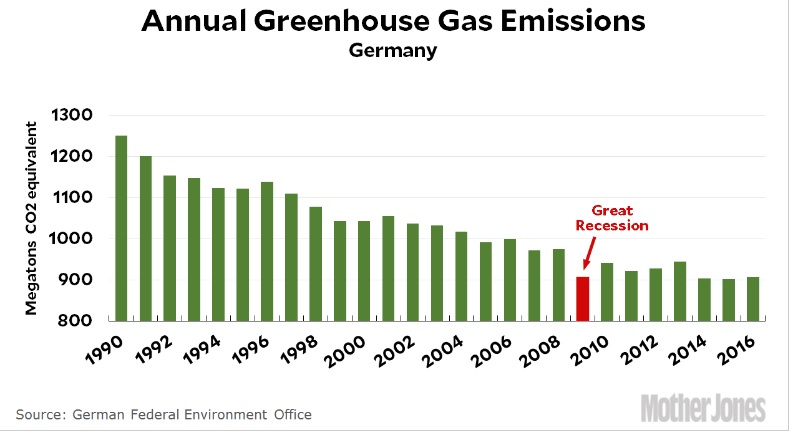 We are not wading into this fight but it got us to wondering how other countries have done in lowering emissions during that time period. The OECD gives us the answers. China's emissions have, of course, gone up. But, France, the U.K. and the U.S. have all seen their emissions decrease as have a number of other developed countries (you can choose countries and adjust dates at the link). The OECD as a whole is slightly down since 1990, the G20 slightly up. We await our op-ed contract from the New York Times.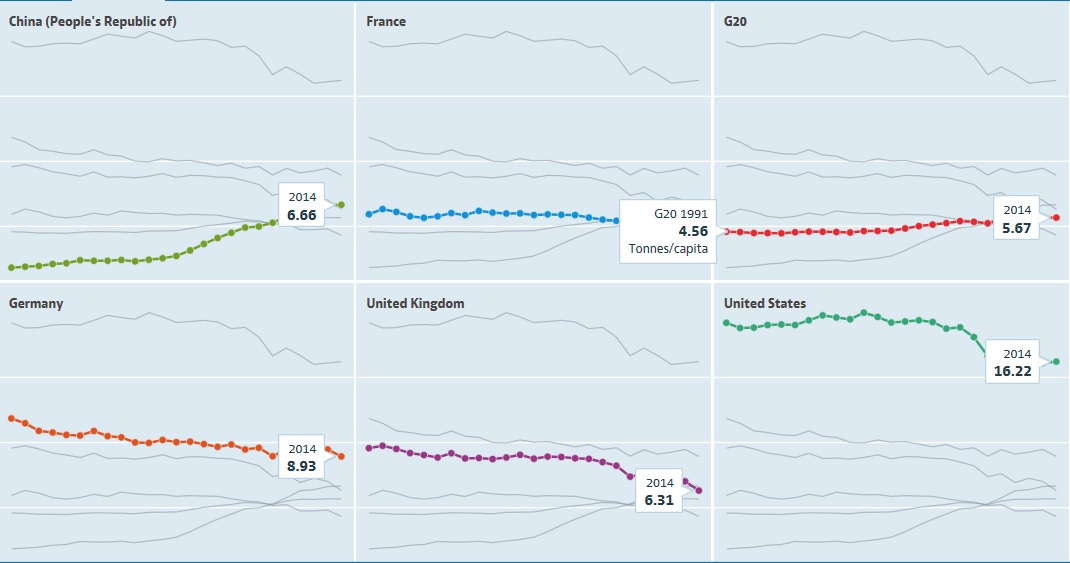 https://gittesglobal.com/wp-content/uploads/2016/06/logo-02-300x54.png
0
0
admin
https://gittesglobal.com/wp-content/uploads/2016/06/logo-02-300x54.png
admin
2017-05-11 11:00:28
2017-05-11 18:57:52
Fast & Furious, China Belt with Indian Suspenders and where CO2 Emissions are Decreasing