On the second afternoon of the Directed Energy Conference we attended last week in Washington, DC, we kept an eye on an old man wearing a seersucker jacket. The day before he had been dressed equally nattily and somewhat extravagantly. But it wasn't his sartorial style that caught our attention, it was his nametag informing us and anyone else who looked that he was with the NSA that had us curious. Why was a near-80-year old man working for NSA and why was he publicly acknowledging what was once known as "No Such Agency" it was so secret? We, of course, struck up a conversation with him. It turns out he's retired but still acts as historian for the agency, chronicling the super secret organization's activities, technologies and efforts from the 1960s, 70s and 80s, all recorded, we hope, as stylishly as he is dressed. But we are unlikely to ever find out since even information from so long ago is still classified and likely to remain so beyond our lifetimes he informed us. But we keep no secrets about international trade being unfairly maligned, the growing influence of China and whether to choose happiness or success. It's this week's International Need to Know, presenting seersucker suits of information in an often button downed world.
Without further ado, here's what you need to need to know.
Stop Blaming Trade
Ironies are in full bloom in the world today, watering our eyes and causing us to sneeze in amusement. One is that though the political world is perhaps more divided than ever, the two sides are united in blaming international trade for why we have arrived at this point in history. It is the reason Trump was elected we are often told, or why Brexit happened or for any number of other problems plaguing our world–the suffering of the middle class is due to trade between nations, or at least that is the theory.  But much like the love of the recent Star Wars movie or the sudden emergence of rosé as the hip new drink, the masses often make mistakes. We cannot arrest today's global problems when we are chasing the wrong suspect. Additional evidence that the policy detectives have mis-fingered trade as the culprit arrive in a new report by the Bank of Settlements (although this report is unlikely to settle the argument about trade). The report notes that "in practice, trade and financial openness appear to have made only a fairly small contribution to the increase in income inequality (see the right most graph below). Rather, technology appears to have been the dominant factor: the returns to skilled labour, which uses technology more intensely, have increased substantially." This makes sense when one steps back and thinks about it clearly without ideology or preconceived notions clouding the mind. Trade adds value, it does not subtract. Give a class of 25 students each a bag of candy  and ask them to trade the candy in their bags. When they are finished, 99 percent will put a value on their new bag of candy higher than the pre-trade bag.* Once we stop blaming trade perhaps we can get on with concentrating on the real challenges that are harming middle classes around the world.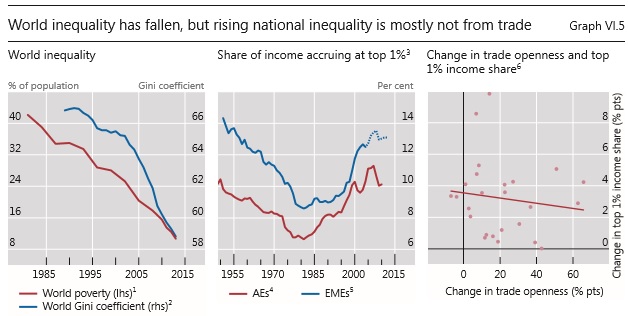 *We have done this exercise a number of times in real classrooms as have others. The result is always the same, the vast majority of students benefit from trade with there being but a few losers.
China's Increasing Influence
China is increasingly influential in culture, the economy and in many other ways. They are not yet the world's largest economy and it will likely be a while before they are. They can't lead on free trade issues as some think since they have one of the world's most closed economies. But they are big. Darn big. And China increasingly exerts itself around the world in many spheres.  For example, China now has the world's fastest super computer (and second and third as well). They are making a huge push into esports with their largest ICT company leading the way: "entertainment giant Tencent has accelerated its e-sports expansion with the unveiling of a new five-year plan…The plan is based on Tencent's expectations that China is set to become the world's largest e-sports market. Tencent predicted there will be 220 million e-sports players in China and 335 million globally by the end of this year." Or look at international students where the U.S. has been dominant. China is now home to more students from Africa than is America. China's ascent was likely to happen anyway due to their sheer size and growing economy but recent American political events have accelerated the trend. We wonder what the world will be like with the Chinese business culture prevailing in the world rather than America's?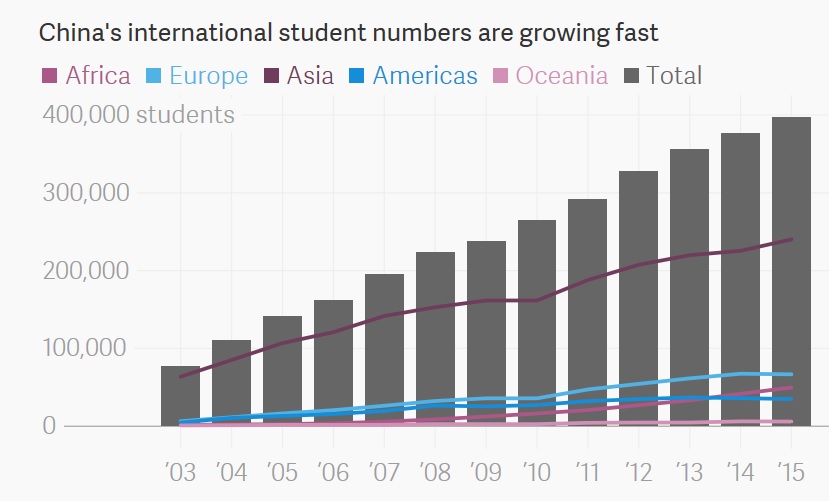 Happiness or Success?
In an interesting article on which countries spend the most on education, we came across data on whose parents prefer happiness for their children and whose prefer they have a successful career. As you see in the graph below, French parents by far wish for happiness for their kids and are much less concerned over whether they have a successful career. Of course, does a successful career for Amelie mean she makes lots of money or does it mean she derives happiness from her job? If the latter, maybe Amelie can be happy and have a successful career.  Putting semantics aside, Canada, U.K., Australia and U.S. parents all put a much higher premium on happiness over successful careers. For India and Malaysia, happiness and success are a toss up. We hope you will happily peruse the graph below.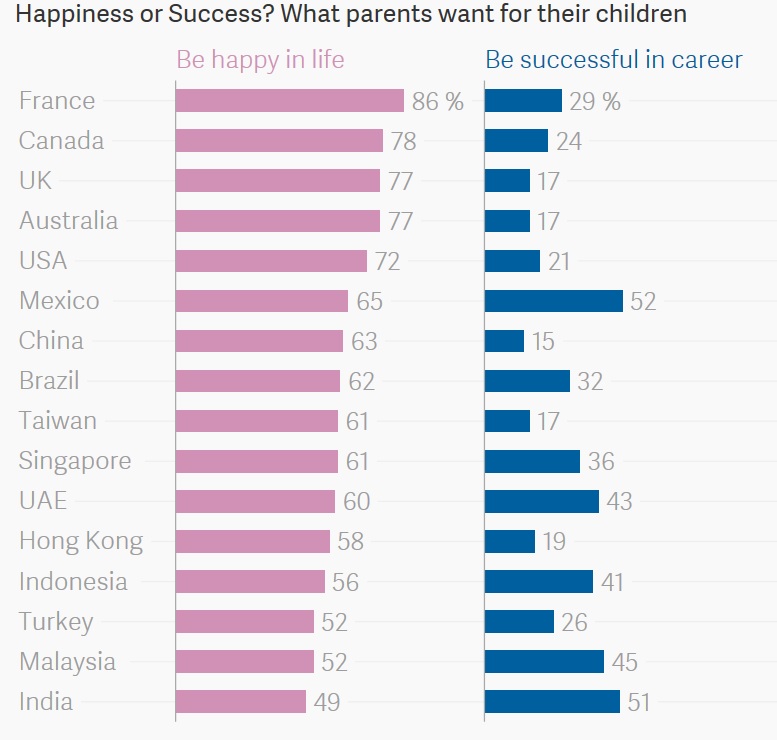 https://gittesglobal.com/wp-content/uploads/2016/06/logo-02-300x54.png
0
0
admin
https://gittesglobal.com/wp-content/uploads/2016/06/logo-02-300x54.png
admin
2017-07-06 11:00:10
2017-08-23 22:38:30
Stop blaming trade, Chinese Influence and Happiness or Success?