Last weekend we attended a gathering of Washington, D.C. refugees. That is, a group of us who once worked in Washington, D.C. but now live in the more beautiful, successful Washington in the Pacific Northwest. Just as back when we worked in D.C., the gathering included people from both Republican and Democrat congressional offices. When we worked back in the nation's capital, the Washington delegation had one congressional softball team comprised of staffers from both Republicans and Democrats. Same deal with our flag football team (which won the championship one year–the older we get the better we used to be). It wasn't just Washingtonians who hung out together. I remember grabbing a drink at Bullfeathers where often the Republican Minority leader Bob Michel could be seen having a drink and singing by the bar, with various representatives of the two political stripes standing around him. Like wide ties and pastel colors, fashions change, but not always for the better. In as bipartisan a way as possible we analyze just how expensive China is, examine Estonian autonomous buses and consider whether cheaters prefer government work in India. It's this week's International Need to Know, the fire and fury of international news and data.
Without further ado, here's what you need to know.
Just How Expensive is China
We've mentioned this before but China is not as cheap a place to produce things as it once was. In fact, you may be surprised to know that it's more expensive than markets such as Japan, Mexico and India. According to new research by Oxford Economics, "labor costs adjusted for productivity in China are only 4% cheaper than in the U.S." Sad to say for our readers down under, Australia has the highest labor costs when including productivity (see chart below). At the same time,Bloomberg reports that total factor productivity in China–"the extra output that the economy produces without additional labor or capital"–has been essentially zero since 2007. Bloomberg contends this is due to the massive stimulus program that has propped up state owned companies (and thus GDP growth) at the expense of private companies: "Today, state companies get almost 30 percent of all loans but contribute less than a tenth of GDP." All of this may make other countries a more attractive place for manufacturing. Will China be able to avoid this cycle as they continue to transform into services?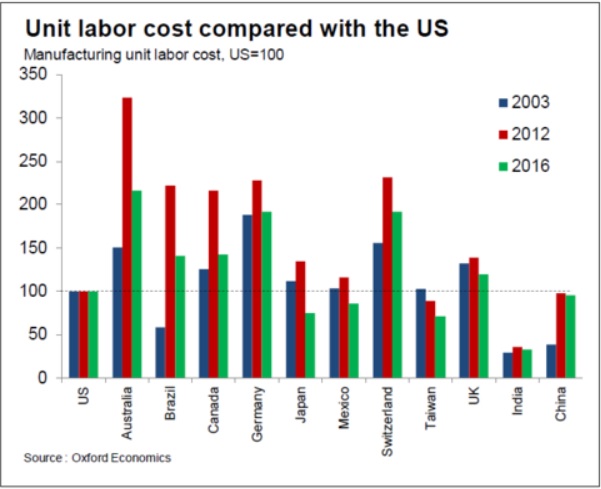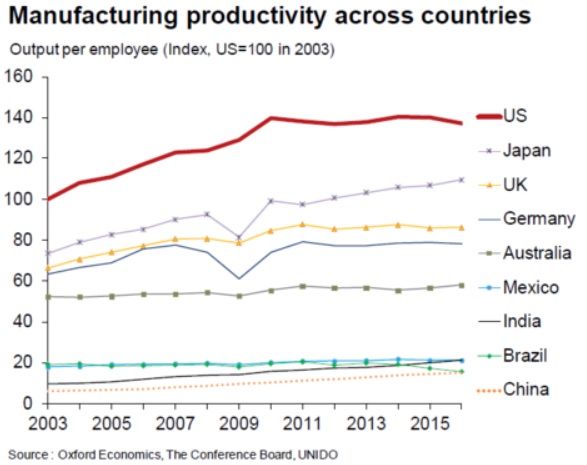 Estonian Kool Aid Autonomous Bus
Tallinn, Estonia is one of our favorite towns. Autonomous vehicles are one of our favorite technologies. So when we learned about self driving buses being tested in the Estonian capital, it was like the French apple pie at Ala Mode*, we devoured it right up. As part of  Estonia's 6-month stint as EU president, they are running these autonomous buses from the city center out to where the EU presidency headquarters are located during Estonia's half-year term. The buses are only temporary but thus far have apparently worked well with no problems reported. Tallinn is not an easy place to navigate with its old city and tough roads. When we were originally there in 1992, one of our colleagues was badly injured by the Russian mafia while walking back to the hotel from a bar we were at. If only self driving buses existed then. But, the Estonian autonomous bus is more evidence that commercial autonomous vehicles may take off internationally before they do in the U.S.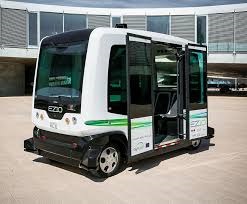 *Like Agent Cooper, we are a pie aficionado so can responsibly report that Ala Mode Pies in Seattle bakes the best pies in the world
Are Cheaters Attracted to Indian Civil Service?
We are no strangers to soul sucking bureaucracies. We once wrote a feature length screenplay inspired by a three-hour experience at the Washington, D.C. Department of Motor Vehicles. The civil service is not like the D.C. DMV (which would be a great handle for a MC, btw). It is not even of the same magnitude of existential horror. But its reputation is also not sterling. A new paper from researchers at Harvard and U Penn may provide an answer as to why. Their paper claims that "Students in India who cheat on a simple laboratory task are more likely to prefer public sector jobs. This paper shows that cheating on this task predicts corrupt behavior by civil servants, implying that it is a meaningful predictor of future corruption." They used a variety of methods to test individuals tolerance for corruption but the most interesting one is where they asked them to roll a die 42 times. Each time they rolled a 1, they were paid a certain amount of money. Students who were more likely to lie about the number of times they rolled a 1, were more likely to get a job in public service. There are, of course, many ways to interpret how such people might function as government employees in India. Nonetheless, when working with the Indian bureaucracy, you may be rolling the dice more than you realize.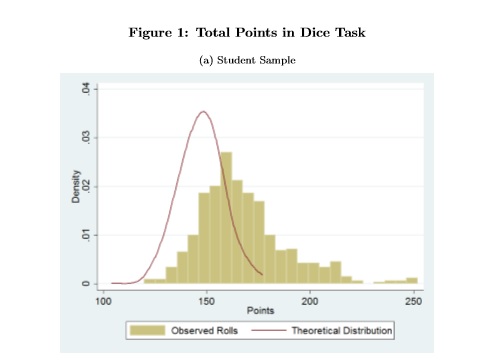 https://gittesglobal.com/wp-content/uploads/2016/06/logo-02-300x54.png
0
0
admin
https://gittesglobal.com/wp-content/uploads/2016/06/logo-02-300x54.png
admin
2017-08-10 11:00:27
2017-08-22 23:00:53
Expensive China, Estonian Autonomous Buses and Cheaters in India