For reasons we won't go into here, we've been researching the TV show, This is Us, which led us down a tangential rabbit hole researching the song, Blues Run the Game, which led to reading up on Jackson C Frank, who wrote the song, and who has the seventh saddest Wikipedia write-up ever. If you are ever despairing of your life, whatever you have to mourn—and we all have something—just remember yours is unlikely to be as dire, tragic or painful as Frank's. Born in Buffalo, NY (tragic enough in itself, Ron Armitage), at age 11 a fire broke out at his school killing 15 students, including Franks's then girlfriend, Marlene, who he later wrote a song about. Frank himself suffered burns on 50 percent of his body. Frank recorded his only album as a young man while living in England. The album was not a popular success and things went from bad to worse for Frank personally. Frank lost a son to cystic fibrosis and later  suffered severe mental health issues that led to his being institutionalized and later to becoming homeless. Years later one of his fans found him and hoped to help him to begin recording again. But before this happened, Frank, sitting on a park bench in Queens, NY, was shot through the eye by a pellet gun a kid was shooting indiscriminately in the neighborhood. Eventually Frank died of pneumonia and cardiac arrest at the age of 56 in 1999, unknown, broke and alone. His music did not save him but continues to stir millions, including viewers of This is Us. It is of no solace to Frank, of course, but even the most tragic life can have hopeful impact. We hope to move you about Europe's lost generation, sing the blues about unicorns, and provide a sequel to self-driving slippers. It's this week's International Need to Know, attempting to be the Jack of international news and data.
Blues Run The Game–Jackson C. Frank (From Vi…
4256 likes
446038 views
Without further ado, here's what you need to know.
A Lost Generation?
We noted a number of months ago that Europe's economy has been recovering after a long, dark economic night resulting from the financial crisis. But for Europe's youth, no dawn looms. At the height of the great recession, in some EU countries the unemployment rate for youth hovered around 50 percent. For the EU as a whole, a quarter of young people were unemployed. That is no longer the case but even today, nearly a fifth of young people in Europe are unemployed. As you see in the chart below, the difference between youth unemployment and employment for older people is stark. Young Europeans are starting from behind with little hope of ever catching up to previous generations. Like the lost generation of World War I, this will have long and worrisome impacts. As the IMF writes, "after long spells of unemployment and with limited experience, the young are less likely to find work. If they do find it, it will likely be at lower wages. Wages not earned and savings not put aside can be extremely difficult, if not impossible, to recover later in a person's career" Old policy makers have run the youths' blues long enough and need to make rescuing the lost generation a higher priority.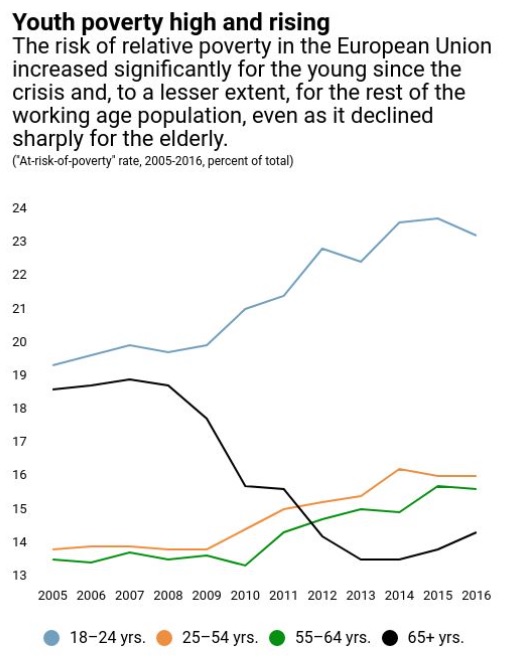 Are all Unicorns the Same Color?
I hate the term, "unicorns," especially as it's now being adapted to NBA players. But, even in its traditional finance definition (a privately held start-up company with a valuation of $1 billion* or more) it grates on our senses. So I somehow type this post while covering my ears with my hands. But we were intrigued, when researching which countries are home to the most unicorn companies, by how two countries utterly dominate. Three-quarters of all unicorns graze in only two countries, China and the U.S. Remarkably, in 2017, as Ian Bremmer recently pointed out, only four unicorns came out of Europe and those were all in the UK. But in 2017 the U.S. saw 32 leap up and China witnessed 18. China is just behind the U.S. in total unicorns, not just ones born in 2017, as you see in the chart below. India is a distant third. Chile is the only South American country with a unicorn. There are lots of forests in our world but only a few are producing these creatures.
*
We question how many of China's unicorns are truly "privately"  held.
last week's story on self-driving slippers
.
  After starting this week with a rumination on tragedy and two not entirely uplifting stories, we are grateful to eagle-eyed reader, Dave Billings, for pointing out this
 video 
of Nissan's self-driving chairs he stumbled across inspired by the self-driving slippers. The technology. The music. It is clearly destined to be one of our favorite videos of the year although we are a bit worried should Tesla start applying self-driving technology to inanimate objects. We do not trust Elon Musk. And when chairs become intelligent, all bets are off.  Nonetheless, though blues do indeed run the game, they cannot make anyone entirely sad when they know self-driving chairs exist in the world. See you next week with happier international news.
【TECH for LIFE】INTELLIGENT PARKING CHAIR | In…
4872 likes
1599437 views