Obviously given this newsletter's content, we have an interest in international. We are indeed keenly interested in our world. How could one not be in this rotating, orbiting globe chock full of so many interesting characters, events and mysteries? And as you've probably noticed, we are also a fan of both music and New Orleans (much of the former would not be possible without the latter). So when an effort comes along that combines all three, you know we're all in. Playing for Changerecords musicians "performing in their natural environments and combines their talents and cultural power in innovative videos they call Songs Around The World." What the organization is trying to change we have no idea but we do enjoy their music video collaborations. Their most recent song, Everlasting Arms, features Dr. John, Luke Winslow-King and Washboard Chaz, all from New Orleans. But also playing on the song are musicians from Argentina, Italy, Anguilla and that most exotic of all places, Mississippi. As we discuss the world this week, the song seems an appropriate accompaniment to China's ideological prism. It harmonizes well with data on women and business and it certainly adds a back beat to surprising news about pesticides and suicide. It's this week's International Need to Know, singing about all the important news of our world, even as we wish our name was as cool as "Washboard Chaz."
Everlasting Arms featuring Dr. John | Playing…
2048 likes
127228 views
Without further ado, here's what you need to know.
China's Ideological Prism
Now that China has officially altered their constitution to eliminate term limits for presidents, perhaps it's an apt time to consider the trajectory of politics in China. Fortunately a new academic paper, China's Ideological Spectrum, provides some insights on this issue. Written by researchers at Stanford and the University of California, the paper studied ideology in China through a large scale online survey." In fact, nearly half a million respondents filled in the survey between 2012 and 2014. The paper reports the results show "Those who prefer authoritarian rule are more likely to support nationalism, state intervention in the economy, and traditional social values; those who prefer democratic institutions and values are more likely to support market reforms but less likely to be nationalistic and less likely to support traditional social values." Interestingly and perhaps not surprisingly, there is a big difference in ideological perspectives between the young and the old in China. "In terms of age, the survey shows that conservative and antimarket/traditional preferences increase with age for those ages 35 and over." Will this young generation, even as they age, want more reforms? Will they get them? China's rulers must navigate tricky ideological waters in the coming years, which we observe after reading that in Beijing this week during the Communist Party Congress, the government is restricting the number of foreigners allowed in university area bars and pubs. Drinks over security, we say.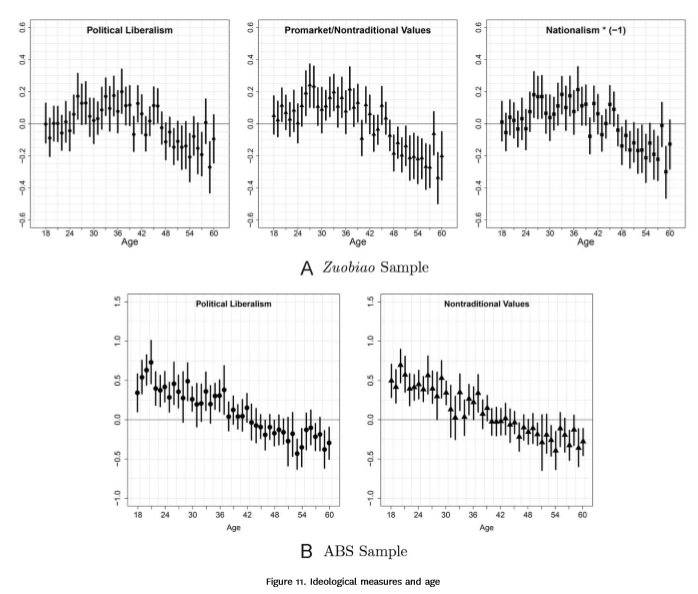 Keeping Company of Women
We're a week late celebrating International Women's Day but we're often late for holidays so why should this one be any different?  For the holiday and otherwise we point to the latest data on which region's companies have the most women managers and CEOs. East Asia and the Pacific lead the way with 33 percent of their companies having women CEOs or the highest-level manager. The Middle East and North Africa take up the rear. Interestingly, according to the World Bank data, Thailand and Cambodia are the only two countries where the data show more women running companies than men. In a related data point, start-up companies in Africa do better than the global average for having women founders with 30 percent of such companies founded by women. And yet also related, we point you to an OECD study showing that women "around the world spend two to ten times more time on unpaid work than men," i.e. taking care of children, elderly relatives, cleaning, cooking and other such activities. Mexico tops the list with women working more than six hours each day on average on unpaid activities. In no country do men work more on unpaid activities than women, but in Sweden women spend the least amount of time on such work. We now go vacuum our Ikea furniture.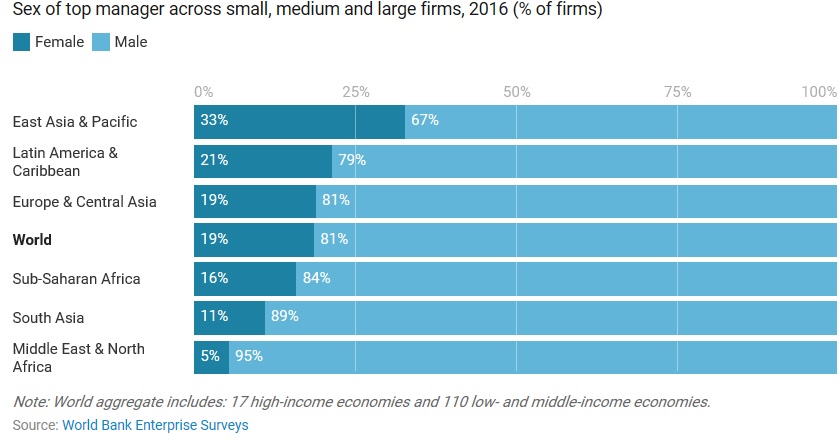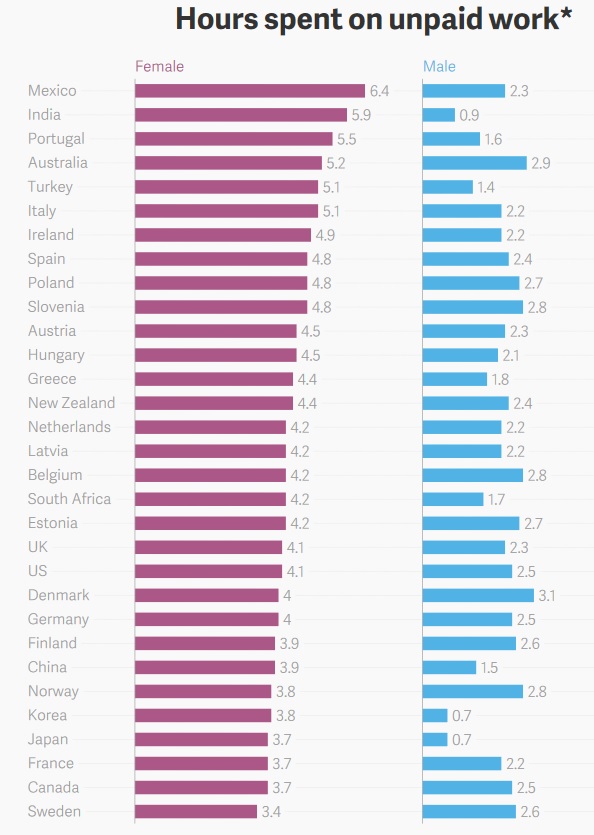 Pesticides and Suicide
A friend of ours recently wrote an oral history of M*A*S*H for The Hollywood Reporter. You may remember the theme song for the movie and TV show is called "Suicide is Painless," which we were reminded of when reading about the great strides Sri Lanka has made in curbing suicide rates. Suicides increased dramatically in that country in the 1960s. In the 1980s, a pesticide registrar, Michael Eddleston, noticed the correlation between increased suicide rates and the large-scale introduction of pesticides in the 1960s."The suicide rate increased from five per 100,000 people to 24 per 100,000 people in 1976, and then peaked at 57 incidences for 100,000 people in 1995."  When people who were prone to commit suicide had at the ready a handy poison, more people successfully killed themselves. So Eddleston began working with Sri Lanka to ban the most poisonous of pesticides. Consequently, suicide mortality rates plummeted: "from 57 instances to a 100,000 population in '95, it has dropped now to 17." This is a 70 percent decrease accomplished not by improved mental health programs but by eliminating the easiest tool for suicide in that country. According to the article,"Research suggests most people who try to kill themselves with pesticides reflect on the decision for less than 30 minutes, and that less than 10% of those who don't die the first time around will try again." The tools used to commit suicide vary greatly by country. In Hong Kong, where there are lots of tall buildings, jumping to one's death is prevalent. No surprise that in the United States, guns play a large role in suicides. Gun control, alas, is not painless.
https://gittesglobal.com/wp-content/uploads/2016/06/logo-02-300x54.png
0
0
admin
https://gittesglobal.com/wp-content/uploads/2016/06/logo-02-300x54.png
admin
2018-03-15 11:00:17
2018-04-08 01:41:58
China's Ideological Prism, Keeping Company of Women, Pesticides and Suicide