We have a rich history dealing with customer service representatives, so much so that we even made a movie with our friend, Mike Williams, about them called Please Hold. But today's customer service representatives appear to be influenced by the current political landscape, asserting up is down and black is white, literally. We offer an illustration. The INTN better half recently gave her parents the gift of a DNA test so they could learn more about their genealogy. Our father-in-law is African-American and our mother-in-law is white. But the results they received from the company asserted that our father-in-law's background is western and northern European. So our mother-in-law called the company and said there must be some sort of mistake. Ahh, but the customer service representative asserted their test was completely accurate and offered a meandering and strange history of whites bringing blacks to America and the mixing of the two. Our mother-in-law patiently explained that the test results asserted her husband had less than 1 percent African heritage in him despite the fact both his parents are African-American. The customer service representative, not unlike a White House spokesperson, stood her ground saying the test results are always correct, telling our mother-in-law that her husband must indeed be white. Our mother-in-law, whose husband was standing next to her, and who knows empirical evidence when she sees it, said, "If you look at the person I'm looking at now, you wouldn't say that." But today's customer service representative creates her own facts and refused to admit there was something wrong with the test results. So as we adjust to our new world where black is white and white is black, we dive into where tech workers should live, examine where inequality is declining and tell you which country is the latest to test flying taxis. It's this week's International Need to Know, giving the Japanese-American perspective on our upside down world.
Without further ado, here's what you need to know.
Where to Live as a Tech Worker
Tech workers can write their own ticket we are often told. Computer programmers and others of their ilk are in such great demand by technology companies that these workers can choose where they want to live. So where are the best places for such workers to lay their weary heads after a hard days night's coding? The global real estate firm, Savills, gives us to two criteria to look at: commute time and rent costs. Among the tech cities Savills examined, tech workers in Austin had the shortest commute time. But in recent years the South by Southwest city has seen rents go north and is the sixth-most expensive city for rent among those examined by Savills. The cheapest tech city for rent is Seoul; followed by Santiago, Chile; and Berlin. We note that our city, Seattle, is both expensive and has lousy commutes. Of course, the same is true of other top tech cities in the world such as San Francisco and Boston. Will these disadvantages eventually affect these urban region's prowess for being tech leaders or are there other factors that will continue to driver their success? We guess, at least for the mid-term, the latter. We note that Chinese cities are not even examined. in the study. We plan on soon updating you on China's technological and innovation prowess, which continues to be underrated.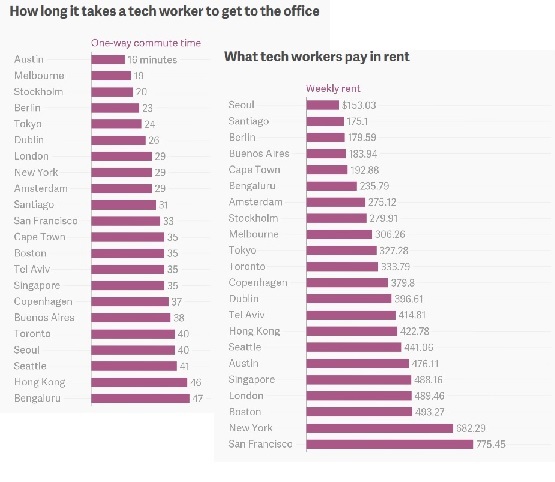 A Region Becoming Less Equal
Inequality has become a big topic nowadays, with evidence of growing inequality in the United States, Europe and other parts of the world. But over the last decade, one region has seen inequality decrease: Latin America. Most countries in Latin America, according to a new study, saw their Gini Coefficients (a measure of inequality–but also a great name for a character in a science fiction story) decrease from 2002 to 2012. Only in Honduras did inequality go up during that period. You might think because a number of these countries elected socialist governments during that period, that government transfers are the main reason for the decline in Gini coefficients. But that same study found that government transfers only account for a quarter of the decline. Other factors, including growing economies coupled with rising education levels, are the main factors for the decrease in inequality in Latin America. Of course, in Venezuela everything is now equal—equally catastrophic. Better to grow your economy and increase your education levels than to implement disastrous economic policies.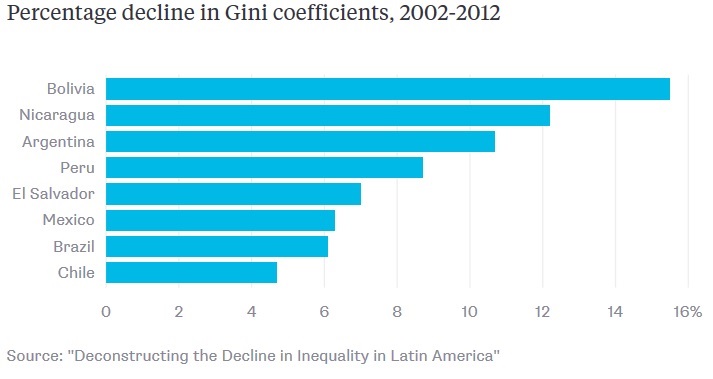 Singapore Flying Taxis
It is true that we have been waiting for an opportunity to write a headline about flying taxis, especially in Singapore, but this is also news well worth sharing. As long time INTN readers know, we have a soft spot for innovative transportation solutions. In fact, last month we reported from an Autonomous Vehicle conference that we attended in Santa Clara. And we recently reported on a flying taxi initiative in Dubai. So we read with interest about Singapore's efforts in this technology. In fact, one of the prototypes the Singapore government is examining is the same Ehang 184 autonomous aerial vehicle that Dubai is planning to start testing this summer.  Singapore is taking a more cautious approach than Dubai. Pang Kin Keong, the Permanent Secretary for the Ministry of Transport recently told an audience that "In 2030, you bet your money that aerial transport will also be a means of urban mobility." 2030 is not this summer but it is also not that long from now. Singapore is already working with Delphi Automotive to test and soon launch a fleet of self-driving taxis (the ground variety) and is investing in a variety of other innovative transportation options. We expect places such as Singapore, with an advanced economy, and a proactive assertive government, will lead the way in the initial use of new transport technology, ahead of Europe and the United States with their more stodgy bureaucracies. And we expect flying taxis to be far safer than taxi drivers in New York, where we have often nearly lost our life due to crazy cabbies.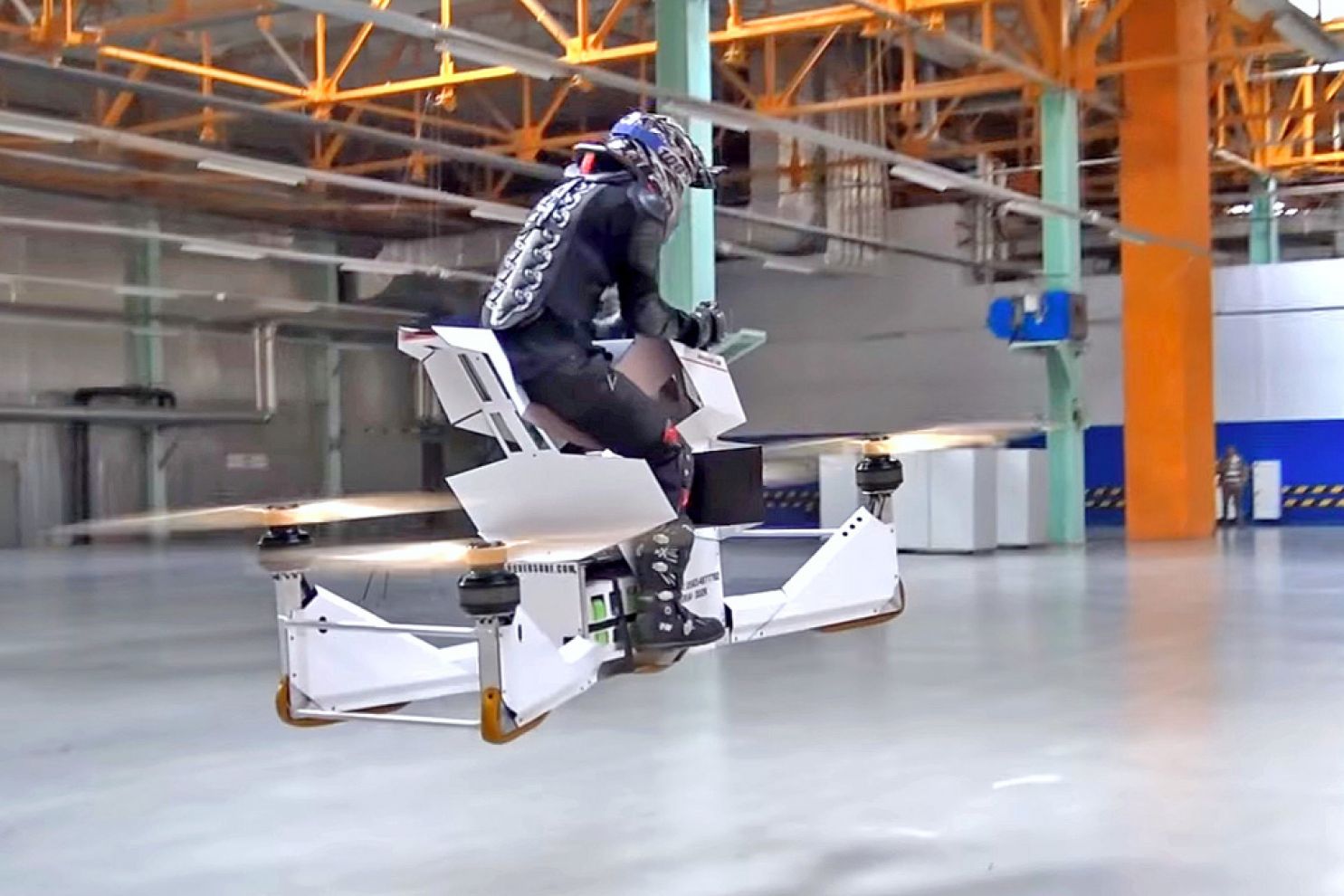 https://gittesglobal.com/wp-content/uploads/2016/06/logo-02-300x54.png
0
0
admin
https://gittesglobal.com/wp-content/uploads/2016/06/logo-02-300x54.png
admin
2017-03-30 11:00:46
2017-03-30 17:06:40
Where Tech Workers Should Live, Where Inequality is Decreasing and Where the Flying Taxis are